Women in Wales missing top jobs, says equality watchdog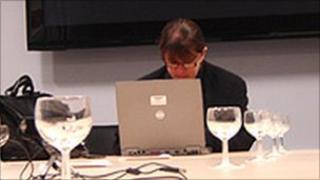 Employers have been urged to meet the work needs of women as a report shows women in Wales continue to lack power and influence in key business and public roles.
The Equality and Human Rights Commission (EHRC) found just two of Wales' top 50 companies employ female chief executives.
The report was released to coincide with International Women's Day.
EHRC Wales commissioner Ann Beynon said firms should adapt to women's needs.
She told BBC Wales men should support women's progression in business and make allowances for them.
Meanwhile, Welsh Liberal Democrat leader Kirsty Williams warned that the number of female AMs may drop sharply in May's election.
The assembly currently comprises 48% women, but Ms Williams said it is inevitable this percentage would reduce significantly now that Plaid Cymru and Labour have relaxed rules on female selection.
Both parties adopted policies to ensure gender balance when choosing candidates for the first assembly election in 1999 which led to the election of 24 women among the 60 AMs.
The Commission's Who Runs Wales? 2011 report was released to coincide with International Women's Day and looked at 10 areas of Welsh life, including politics, local government, health and the private sector to assess the gender balance.
The annual event marks a date when people celebrate the economic, political and social achievements of women.
Talent pool
But Kate Bennett, national director for the EHRC in Wales, said the report showed women remain severely under-represented at the "decision-making tables" in Wales.
"Our organisations are paying a penalty - evidence shows that more diverse management teams take better decisions.
"If those making the decisions are drawn from a narrow section of society, most people's needs will be overlooked.
"Our report highlights the need for political and business leaders to find the best way to take advantage of the full talent pool in Wales."
Her views are shared by Ms Beynon, who is director of BT in Wales, and thinks businesses need to wise up to the changing times.
Former minister Lord Davies of Abersoch has urged FTSE 350 companies to boost the percentage of women at the board table to 25% by 2015.
Ms Beynon told BBC Wales: "It's right for women to expect to have it all.
"We have different requirements on our time and we have different skills so for women to be at the table there's got to be allowances made.
"It's up to businesses to make sure women can play a full role in their company.
"Those companies that have no women at all on their boards actually need to wake up and smell the coffee and following Lord Davies' report, the light needs to shine on them."
Ms Williams said she was not surprised by the report's findings and had found her gender raised significant issues in her political career.
"Women are certainly underrepresented in both the public and private sectors in Wales but this is not a problem specific to Wales.
"I think we need to look at soft measures in companies to help women progress through an organisation.
"Women need to support other women in terms of mentoring but it's not going to happen by osmosis.
"There need to be positive examples where organisations show they are taking this seriously otherwise things will get worse."