Welsh housing market activity falls 'considerably'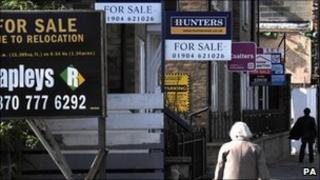 Activity in the Welsh housing market has fallen "considerably", with prices and sales dropping, say experts.
The Royal Institute of Chartered Surveyors (RICS) found that 27% more of its members reported sales falling in February.
It said house prices also saw a notable slump, with 58% of its surveyors reporting a fall.
Property demand stabilised in Wales, but RICS said it was low in the UK due to high deposits needed by lenders.
RICS said surveyors continued to report that a lack of buyer confidence was affecting the market, and said newly agreed sales, which are a good indicator of market activity, dropped significantly.
Elsewhere, newly-agreed sales were most positive in London, south west England, Yorkshire and Humberside and Scotland, while other parts of the UK experienced particularly negative readings, RICS said.
Interest rates
House prices in Wales also slumped as 58% more surveyors reported a fall rather than a rise in prices. This is in keeping with the UK trend where 26% saw prices fall rather than rise.
Demand stabilised in Wales, but throughout the UK it is reported to be low and continues to be affected by the high deposits needed by lenders and fears over rising interest rates, said RICS.
Tony Filice of RICS Wales and director of Kelvin Francis Chartered Surveyors said: "Increased levels of properties are coming onto the market in Wales, across all price ranges.
"Vendors and viewers are starting to display a cautious optimism and, while there are a relatively low number of sales going through, we are also expecting higher levels of viewings. There is still a shortage of first-time buyers."