Picture shows how floods could devastate Cardiff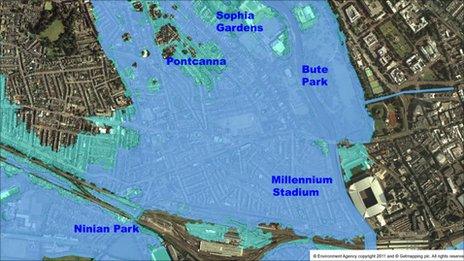 The Environment Agency has revealed how Cardiff would look without any flood defences.
Images show how the Millennium Stadium, Bute Park and Ninian Park would all be submerged if not for flood protection.
The photographs were released as part of an exercise to test the UK's response to flooding risks.
Environment Agency Wales Director Chris Mills said: "Climate change will increase the likelihood of flooding in the future."
The agency also revealed images of a deluged London, Birmingham and Liverpool, demonstrating the devastation that flooding could cause major cities in the future.
The biggest ever test operation takes place this week to see how different parts of the UK respond to incidents like catastrophic floods, overflowing rivers, collapsing reservoirs and tidal surges.
It was one of the recommendations made by Sir Michael Pitt in his review of the summer 2007 floods.
In Wales the operation, named Exercise Watermark, will be coordinated by the Environment Agency on behalf of the assembly government and the Department for Environment, Food and Rural Affairs (Defra).
Smaller operations, such as simulated rescues, will also be carried out to test the emergency services' response.
The agency said it had published the images to highlight the importance of flood defences, but also to illustrate that property can be at risk of flooding, even if it is not right next to the river or the sea.
The Environment Agency is encouraging everyone to check their flood risk on its website and sign up for free flood warnings.
Environment and Sustainability Minister, Jane Davidson said: "Climate change means we will all have to adapt to the increased risk of flooding.
"No-one can stop flooding, but we can prepare.
"The role for government, emergency services and utility providers is to work together to respond quickly, efficiently and effectively in the case of an emergency situation."
Mr Mills added: "Exercise Watermark will put emergency plans to the test using scenarios based on severe weather conditions including flooding from the sea, rivers, surface water and reservoirs.
"The likelihood of flooding is very real, especially for people and families who live in areas of high risk.
"Climate change will increase the likelihood of flooding in the future and whilst we can't prevent it we can prepare for it."
Related Internet Links
The BBC is not responsible for the content of external sites.