Conservatives' Cardiff office arrests after 'break-in'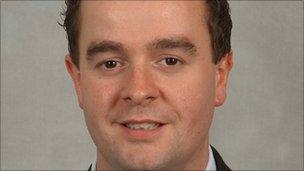 An assembly member and MP's office in Cardiff has been broken into by Welsh language protesters.
Cymdeithas yr Iaith said campaigners painted a slogan to show anger with the proposed cuts to Welsh channel S4C.
Cardiff North AM Jonathan Morgan on Twitter said the office, which he shares with Jonathan Evans MP, had been "wrecked" and he was "shocked that people could behave in this way."
South Wales Police said a woman, 20, and a man, 34, have been arrested.
It is thought the incident in the city's Whitchurch area happened early on Sunday morning.
Mr Morgan is assessing damage at the office, which he shares with the Cardiff North MP Mr Evans.
The incident coincided with the party's spring forum and Welsh conference, which is being held in the city.
South Wales Police said they have arrested a 20 year-old woman from Cardiff and a 34 year-old man from the Merthyr area following an incident in the Whitchurch area.
Cymdeithas in a statement had earlier claimed to have targeted the Conservatives' Welsh HQ but Mr Morgan said it was his office, in the same suburb, which had been damaged.
Bethan Williams, chair of Cymdeithas yr Iaith, said it was part of a campaign to halt the current plans for S4C, "which would put the channel under the BBC and would cut its funding by 42% in real terms".
She added: "We are calling on the British government to listen to the calls of our political parties in order to make sensible and informed decisions on the future of the channel."
There have also been protests at BBC premises in recent weeks.
Last month, the group warned it would be involved in direct action over the issue.
BBC Wales has said the decision to change the funding arrangements were made by the UK government, and discussions were ongoing between the various parties.
Related Internet Links
The BBC is not responsible for the content of external sites.