Further disruption for Arriva Trains Wales passengers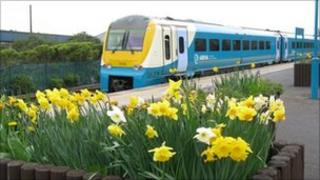 Rail passengers face further disruption after Arriva Trains Wales (ATW) cancelled their Sunday services following a dispute with drivers.
Sunday services are staffed by drivers working voluntary overtime but the Aslef union has imposed an overtime ban in a dispute over pay and conditions.
ATW are operating a limited bus service and apologised for the "inconvenience" to passengers.
Services by other rail operators are not affected.
The dispute centres on a row over pay and changes to working conditions, in particular Sunday hours.
Last Sunday's services were affected by the overtime ban and last Monday none of ATW's 950 services ran during a 24-hour strike by drivers.
Further strike
A fresh 24-hour walk out is scheduled to take place on 12 March, the day of the Wales v Ireland rugby international in Cardiff, after failed talks between the two parties.
Arriva Trains Wales operates extensive services in north and south Wales as well as some into England including on the Cambrian Line and services to Manchester.
Speaking after the failed talks on Thursday, Aslef General Secretary Keith Norman said he was "bitterly disappointed" with the company for failing to come up with an improved pay offer.
"Given the company's reluctance to change the position and the unacceptability of their previous offer, we have little choice but to take further action," he said.
ATW has said it has offered a "generous" pay rise worth 12% over two years.
The company has said it would bring drivers' salaries to £39,117 for a 35-hour, four-day average week.
Aslef has said its members were paid less in Wales than drivers in England and that ATW's offer would work out as £39,000 for a 46-47 hour, five-day week, as the offer was dependant on a commitment to a driver working on Sundays.
For service updates customers are advised to check the Arriva Trains Wales website www.arrivatrainswales.co.uk or contact National Rail Enquiries on 08457 48 49 50.