Copper Day marks 200th anniversary of Hafod Copperworks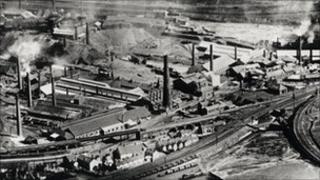 A festival is being held to mark the 200th anniversary since the first copper ingot was produced at Swansea's historic Hafod Copperworks site.
A series of events are being held across the city as part of Copper Day which commemorates the production at Vivian and Sons Copperworks.
In January, Swansea University was named as the city council's preferred partner in developing the 12-acre site.
It is made up of land close to Liberty Stadium and Parc Morfa retail park.
The site is home to 12 Grade II listed buildings and structures, some of which feature in a programme of events such as guided tours.
Councillor Graham Thomas, Swansea council cabinet member for culture, recreation and tourism, said: "Swansea was once the copper capital of the world and many organisations have come together to make Copper Day possible.
"This huge selection of free, educational events will not only raise awareness of Swansea's giant contribution to the industrial revolution but it will also allow people to learn about the continued importance of copper in this day and age."
Swansea Museum is hosting displays telling the industrial, seafaring and personal stories of the time when copper was king in Swansea.
Copper magnates
Meanwhile, medieval historian Professor Ralph Griffiths leads a tour of Singleton Abbey, the main residence of copper magnates the Vivians in the 19th Century and a building that is not usually open to the public.
Anyone interested in the tour should meet at the Richard Burton Archives in Swansea University Library at 1500 GMT.
Activities are also being held at the National Waterfront Museum and at the Glynn Vivian Art Gallery featuring 18th and 19th Century objects made from copper and collected by Richard Glynn Vivian on his world travels.
The BBC Big Screen in Castle Square will show slideshows of historic images.
The remains of the Hafod Copperworks of Vivian and Sons, a Grade II listed building, still lie on the banks of the River Tawe.
It was the largest copper works in the world during the 19th Century and continued rolling copper until it closed in 1980.
Swansea council's cabinet has entered into a "memorandum of understanding" with Swansea University to explore regenerating the site.