Wrexham FC sale a step closer to completion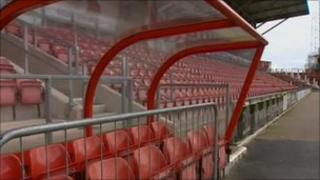 The sale of Wrexham Football Club is a step closer to completion following a meeting between the club's owners, Wrexham council and the supporters' trust.
The club owners confirmed they are prepared to sell the club to the supporters' trust if a bid is forthcoming.
Businesswoman Stephanie Booth has submitted a rival bid.
Wrexham council said it would continue talks with all interested parties.
Last week, Wrexham Supporters Trust (WST) and Stephanie Booth held talks over a possible joint venture but failed to agree.
WST is considering submitting a seven-figure bid to buy Wrexham FC, along with the Racecourse ground and the Colliers' Park training ground.
The club's directors have carried out a review of the financial state of the club which is due to be examined by the supporters trust.
The joint statement said: "The directors of Wrexham FC recognise the need for detailed consideration of the due diligence review before final plans can be prepared and confirm that they are prepared to consider a deal with the WST if a bid is forthcoming.
"In order to explore the optimum outcome for Wrexham FC, the Racecourse and Colliers Park, Wrexham Council has agreed to facilitate further talks with representatives of all interested parties."
At the meeting on Wednesday, all three parties also confirmed their commitment to protecting the club ground the Racecourse as the premier sporting venue in North Wales.
On Wednesday, a board member of the Wrexham Supporters' Trust (WST) resigned over what he calls a "shabby and co-ordinated campaign" to discredit him.
Lindsay Jones said he was under "intolerable pressure" and feared he was being set up as the "fall guy" if attempts to buy the club failed.