Welsh referendum: Row over Tory logo used in Yes campaign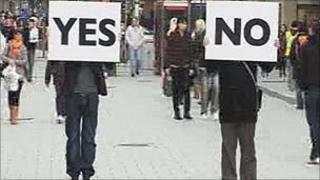 Welsh Secretary Cheryl Gillan has asked for an investigation of alleged use of a Conservative logo on Welsh assembly referendum Yes campaign adverts.
Mrs Gillan said officials would see if there was a correct and proper role for her, as secretary of state, to respond to a complaint from a Conservative MP.
Monmouth MP David Davies said many Conservatives were opposed to a Yes vote on Thursday.
He said a large number would be "outraged" by the use of a Tory logo.
Mr Davies said: "The Conservative Party is not united in supporting it and in my view a very large part of its membership is totally opposed to it and would be outraged that their logo is being used in this fashion."
Mrs Gillan said he had referred the issue to officials for advice but was yet to receive that advice. She was giving evidence to the select committee on Welsh affairs.
Building message
Meanwhile, the body responsible for the Senedd said it was not consulted by Yes campaigners before they projected a message onto the building urging people to support their cause in the referendum.
The Assembly Commission said it would have refused permission if it had been asked before the image was put up on Monday night.
The commission said it was "committed to providing objective and impartial information to the public on the referendum and is careful to avoid giving any impression of favouring either the Yes or the No campaigns."
A spokesman said: "The commission were not aware that anyone intended to use the Senedd, along with other buildings in the area, as a surface for a projected image backing the Yes campaign.
"It received no request for permission to do so. Had such a request been made, the Commission would have turned it down, as it would also have done in the case of any such request from the No campaign."
Nigel Dix of the campaign group True Wales, which wants a No vote, called for Yes campaigners to apologise to the Assembly Commission.
"It goes to show to what lengths the Yes campaign will go to get their way in this referendum - not even having the courtesy to ask for permission before doing this.
"It goes to show their arrogance. They should apologise for doing this."
Yes for Wales has been asked to comment.