Businesses fill public toilet gap in Wales says survey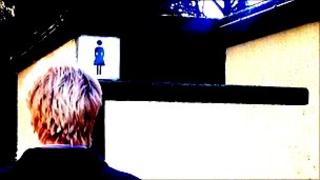 Businesses in many parts of Wales are filling the gaps as the number of public toilets falls, figures suggest.
BBC Wales has found there are now about 200 fewer traditional public loos, compared to the late 1990s.
But over 200 businesses such as pubs, cafes and even dentists have opened their toilets in recent years after offers of up to £500 of public money.
Age Cymru says public loos are crucial for older people and some will not go out without knowing they are available.
BBC Wales has obtained figures from local authorities across Wales and the assembly government, and found public toilet provision varied hugely from county to county.
Gwynedd has 86 traditional public toilets, as well as 36 premises offering use of their loos under an assembly government scheme to encourage businesses to open up to the public.
At the other end of the scale, Torfaen, a much smaller local authority, has just seven conveniences and has not signed up to the scheme.
However, Torfaen council said the public was also able to access toilets in its public buildings.
"There are also public toilets in the popular indoor shopping centre in Cwmbran, but these are privately managed," a spokesperson added.
Caerphilly and Monmouthshire also have fewer than 10 public toilets.
A survey by Age Cymru last year found that 54% of older people considered public toilet facilities in their area to be unsatisfactory.
Iwan Roberts, of Age Cymru, said: "Public toilets are a lifeline for older people.
"If there's not toilets in their towns or cities, they can't leave the house. We can't underestimate the importance of public toilets in our towns and cities."
Pressure on councils
Mr Roberts welcomed the number of businesses signed up for the assembly government scheme.
"It's important that we have a mix of different businesses on board," he added.
Public conveniences are coming under increasing pressure as councils look to save cash in the current financial climate.
Local authorities do not have to provide public toilets so closing them can be seen as a way to save money.
Age Cymru would like provision of public conveniences to be a statutory duty, but Mr Roberts said he understood there was pressure on councils to make money go further.
Richard Chisnell, chairman of the British Toilet Association, said the decline of the public toilet was "accelerating" because of the pressure on council finances and the "continuing discretionary nature" of provision.
"We don't expect a loo on every corner but when you go to a busy area, particularly during the summer months, we must expect that there should be some proper provision for the 21st Century," he said.
The assembly government has been attempting to address the issue with its scheme, through local authorities, which pays businesses up to £500 to offer their facilities to the general public.
The scheme was introduced in April 2009 for three years, and all local authorities in Wales were invited to participate.
Early figures for 2010/11 show that around £106,500 has been paid out in grants and 232 businesses are signed up.
Business taking part typically include pubs, cafes and hotels, but there are also examples of dental practices, museums and churches signing up.
The assembly government said only Newport, Flintshire, Rhondda Cynon Taf and Torfaen councils had not joined the scheme, although some that were taking part had not signed up any businesses.
'Useful filler'
An assembly government spokesperson said: "The public facilities grant scheme is proving very popular with both local businesses and councils across Wales.
"Indeed, the number of businesses participating in the scheme has doubled in the last 12 months."
Jenny Randerson AM, now Baroness Randerson of Roath Park, who has raised the decline of public toilets in the assembly, said the assembly government scheme was a "useful filler".
"It's a good scheme but it doesn't replace actual toilets," she said.
She said there were issues such as opening times if the toilet was provided in a pub.
"Obviously, if it happens to be in a pub, there are a lot of people who wouldn't choose to go into a pub - elderly people, mothers with children, Muslims, so it's not necessarily ideal," she said.