Royal wedding: William and Kate's Anglesey visit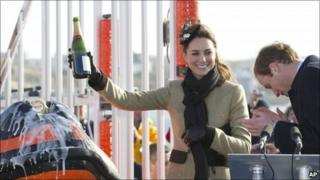 Prince William and Kate Middleton have been welcomed by crowds of hundreds of people on their first official engagement as a couple.
Miss Middleton cracked open a bottle of champagne over a new RNLI lifeboat at Trearddur Bay on Anglesey.
The prince, who is based at nearby RAF Valley, told the crowd: "I do the talking, she does the fun bit".
Miss Middleton sang the Welsh national anthem, as well as a hymn in Welsh.
A palace spokesman said the couple asked for their first joint engagement to be on the island, where they have a rented home.
They arrived by black Land Rover, and were met by a welcome party before attending an official ceremony.
Miss Middleton wore a cream tailored coat, with brown velvet trim and had her hair swept up into a pony tail and fastened with a black feathered fascinator.
Prince William wore a dark suit and winter coat, buttoned up against the wind.
Both joined in to sing God Save The Queen, followed by the Welsh anthem, Hen Wlad Fy Nhadau, as Miss Middleton showed an early grasp of the Welsh language.
At the lifeboat dedication ceremony, the prince spoke briefly in Welsh to applause from the crowd.
He preceded his speech by paying tribute to Welsh rescue workers who travelled to help those caught up in this week's earthquake in New Zealand.
He then said: "In my short time as a search and rescue pilot I have been privileged to work with Aubrey Diggle and other volunteers of the Trearddur Bay life boat.
"I realise, as we all do at RAF Valley, what a vital part this new lifeboat plays in our combined effort to save people from the sea.
"And the Trearddur Bay crew themselves have to thank the generosity of the RNLI fundraising branches here - ably chivvied by Jack Abbott - and across the county of Herefordshire for this superb new rescue platform.
"I know I join everyone here in praying that Hereford Endeavour will keep them safe while they save others.
"God speed you in your dangerous, gallant work."
'Anglesonian'
The prince - serving as an RAF search and rescue helicopter pilot - referred to his future wife, saying she was not only about to join the royal family, but to become an "Anglesonian".
There were cheers and applause as Miss Middleton laughed.
Both arrived on the podium to huge cheers before Miss Middleton opened a bottle of celebratory Champagne and poured it on the lifeboat.
Miss Middleton was then presented with a bunch of flowers by a young girl before the couple began meeting guests and members of the lifeboat crew.
Several hundred people started gathering hours before the royal couple's arrival, with some travelling from north west England.
The crowds, several deep on both sides of the promenade, were entertained by the Menai Bridge Brass Band and the Holyhead Male Voice Choir.
The prince and Miss Middleton are to marry on 29 April.
Friends Una Dingle, Audrey Owen and Terry Parkes arrived early to gain their vantage point.
Mrs Owen said: "We planned to come as soon as we heard about it, to support the lifeboat and Prince William as he is lovely.
"He is left in peace and quiet on Anglesey and we don't bother him, but this is really good for the island."
The Atlantic 85 inshore boat, named Hereford Endeavour, is the most advanced inshore rescue vessel produced by the RNLI.
During the engagement, the royal couple met RNLI volunteers who funded the new boat at the charity's branches at Leominster and across Herefordshire.
The presence of the prince and his bride-to-be has generated intense interest on the island, with large crowds of onlookers descending on the seaside village in the hope of catching a glimpse of the couple.
A palace spokesman said: "They asked for their first joint engagement to be in Anglesey.
"Then the lifeboat station approached us about the new lifeboat and, given that Prince William is a search and rescue pilot and at some point is very likely to be working with crew, it seemed appropriate."
The visit has attracted intense media interest from across the globe, with crews from various multinational television stations camped out.
The visit to Anglesey will be swiftly followed by an engagement at their old university St Andrews on Friday to launch an appeal.