Police make CCTV appeal in Nikitta Grender murder hunt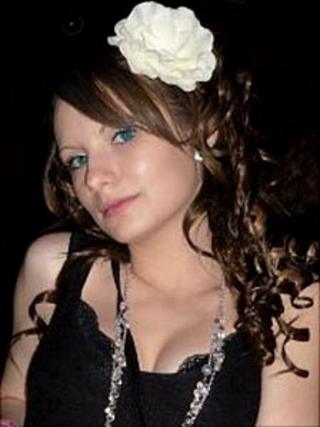 Police investigating the murder of pregnant teenager Nikitta Grender have appealed for householders with CCTV to come forward so it can be examined.
The 19-year-old was stabbed twice and her body was found after a fire in her Newport flat.
Gwent Police asked people with private CCTV on their properties in the Broadmead Park, Moorland Park and Pontfaen areas to contact them.
A specialist search team are hunting for the murder weapon.
Drains near her Newport flat have already been searched by some of the 50 Gwent Police officers on the case.
Extra patrols have begun to reassure local people after what police call a "particularly callous" killing.
A unit which specialises in underwater search and rescue has been drafted in from neighbouring South Wales Police.
The team is also used to help gather evidence in difficult terrain. The area around Ms Grender's home at Broadmead Park, in Liswerry, has a number of culverts and streams.
Just before 1000 GMT on Tuesday, a team of eight officers with sticks resumed searching locally for the murder weapon.
Police say the fire in her first-floor flat on Saturday morning was an attempt to cover up the killing.
They believe the answer to the murder lies in the community and continue to appeal for people to come forward with information.
A major police investigation has been launched and Neighbourhood Officers and community safety wardens have put on extra patrols in the area, aimed at reassuring local people.
The heavy police presence comes as friends and neighbours continue to place flowers and toys outside her home at number 51.
Some residents said anger was rising about the tragedy.
Christine Tovey, 26, a mother-of-four, warned that a lack of police progress could be a trigger for people to take the law into their own hands.
She said: "I can see vigilantes coming in if the police do not find who did this.
"I couldn't blame them if anyone did. Emotions are running so high around here. Life isn't fair any more."
Detectives appealed again for anyone, particularly close friends of Ms Grender, to come forward with information.
Gwent Police said they have received 48 calls from members of the public in response to their appeals for information.
Police are still awaiting results on tests on what killed Nikitta Grender's dog which was found dead with her.
Scenes-of-crime investigators are examining items taken from the scene and a finger-tip search of the grassy areas at the front of the flat has been carried out.
Drains have been searched and CCTV footage is also being examined.
On Monday, Ms Grender's parents paid tribute to both her and her unborn daughter, who was to be named Kelsey-May.
"As a close family we are trying to come to terms with the tragic events which have led to the untimely death of our beautiful daughter Nikitta and grand-daughter Kelsey-May," they said in the statement issued by Gwent Police.
"We wish to appeal for any persons with information to contact the police in an effort to find out why this has happened."
Neighbours have told police a fire alarm was triggered at about 0530 GMT on Saturday.
Det Supt Geoff Ronayne, who is leading the investigation, has said he is "fairly certain" about Ms Grender's movements until about 0100 GMT on Saturday, when she was out with friends.
He asked anyone with information about visitors to her flat, or any suspicious activity in the area between 0100 GMT and 0530 GMT, to come forward.
Anyone with information is asked to call 01443 865562 to speak to the inquiry team, or call police on 01633 838111, or Crimestoppers on 0800 555111.