Rolf Harris portrait of Bryn Terfel's father on show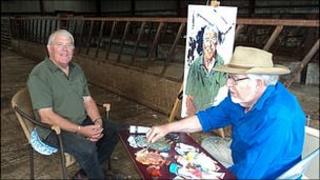 A portrait by Rolf Harris of opera star Bryn Terfel's father has been unveiled at a gallery on Anglesey.
The painting of Hefin Jones, on show at Oriel Ynys Mon, Llangefni, was commissioned as part of BBC1's Rolf on Welsh Art.
The entertainer and painter, tours Wales looking at the landscapes which inspired famous artists such as Sir Kyffin Williams and Graham Sutherland.
Harris paints in the style of different artists during the series.
He also tackles the challenge of painting in the style of artists Josef Herman and Shani Rhys James.
Harris first took on the palette knife technique of personal friend, the late Sir Kyffin Williams, using Snowdonia farmer and Bryn Terfel's father, Hefin Jones, as his muse.
"That was one of my favourite moments, painting Hefin," said Harris.
"I managed to get a really good likeness but it didn't finish up anywhere near as good as the many palette knife portraits Kyffin had made of so many Welsh people.
"I found I was using the tip of the palette knife to paint a lot of things in tiny detail, whereas he seemed to use the great flat areas of the knife blade to smooth things across.
"The more I painted, or tried to paint in his style, the more I realised just how absolutely brilliant he was, just so incredibly good."
Australian Harris, whose own Welsh roots go back to Merthyr Tydfil, visited Hefin Jones at his farm in Pantglas, Gwynedd, and the opera singer's father remembers his first portrait sitting fondly.
"He was here from 10 in the morning until eight at night, and was great company," said Mr Jones said, who is depicted by Rolf at work in one of his outbuildings.
"He sang Calon Lan and Oes Gafr Eto while he worked, he's got a great voice.
"It's hard to say what I think of the end result, it was the first he'd ever done in the Kyffin Williams style and I think it's pretty good.
"He did a pencil sketch of me first though, and I've got that, signed and framed on the wall."
The Anglesey edition of Rolf on Welsh Art airs on BBC One Wales at 1930 GMT on Wednesday, 16 February.
Rolf Harris' paintings can be viewed across Wales at the following: Oriel Ynys Mon, Llangefni, from 4 February; Glynn Vivian Gallery, Swansea, from 7 February; Oriel Y Parc, St Davids, from 11 February; National Museum Cardiff, from 16 February.