Tribute to pregnant Newport stab victim Nikitta Grender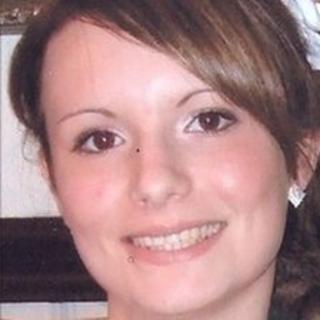 A 19-year-old mother-to-be whose body was discovered by fire crews in her flat died of a stab wound, Gwent Police have confirmed.
Nikitta Grender, who was eight months pregnant, was found in Broadmead Park, Liswerry, Newport, on Saturday.
Police say she was stabbed before a fire was started in the flat, probably to disguise the attack.
Her parents paid tribute to their "beautiful" daughter and urged anyone with information to contact police.
Detectives are asking Ms Grender's "friends and associates" to come forward "as they may have vital information".
Police are continuing to search for a weapon, believed to be a knife, and forensic work is taking place to establish the type of knife.
A major incident team of 50 officers is working on the investigation.
Det Supt Geoff Ronayne, who is leading the investigation, said detectives had received calls from the public but they wanted more information.
"Specifically we would like to hear from anyone who knew Nikitta, who was in her circle of friends and wider associates, male or female, who spent time with her and perhaps had been to her flat at 51 Broadmead Park," he said.
He said officers were now "fairly certain" of Ms Grender's whereabouts during the early part of the evening.
"She went, in her friend's car, to McDonald's. They then drove around the Newport and Cwmbran area and she then was back at the flat at approximately 1am on the Saturday morning," said Mr Ronayne.
"We know from a neighbour that the fire alarm went off at 5.30am.
"We now know that the fire was started after she was stabbed, probably to disguise the attack, so we are interested in anyone who knows of Nikitta's whereabouts or any visitors to the flat or any suspicious activity in the area between 1am and 5.30am to come forward and help with the inquiry."
He said specialist officers were supporting Ms Grender's family, who were "understandably distraught at the horrific events which have occurred over the last few days and our thoughts remain with them".
Her mother and father said in a statement: "As a close family, we are trying to come to terms with the tragic events which have led to the untimely death of our beautiful daughter Nikitta and grand-daughter Kelsey-May.
"We wish to appeal for any persons with information to contact the police in an effort to find out why this has happened.
"We ask to be left alone at this time with Nikitta and Kelsey-May's family to come to terms, if possible, with the tragic events which have taken our daughter and grandchild from us."
Floral tributes have been left outside Ms Grender's flat since her body was found by fire crews using breathing apparatus and thermal imaging cameras.
Supt Dave Johnson said: "Our officers are remaining at the scene not only to provide reassurance but also to speak to any members of the public who may have vital information about the investigation or any concerns.
"We are also patrolling with Newport City Council community safety wardens, and the mobile police office will remain in the vicinity."
A Facebook page has been set up paying tribute - "R.i.p Nikitta Grenda. never forgotten always loved".
Neighbours said Ms Grender was a popular and well-known figure in the area.
Friend Luke Morgan said he could not believe what had happened.
He said: "She was fun-loving, caring. She was so looking forward to becoming a mum. You don't expect this to happen to such lovely people."
Anyone with information is asked to call 01443 865562 to speak to a member of the inquiry team, or call police on 01633 838111, or independent charity Crimestoppers on 0800 555111.