Principality building society doubles profits to £30.8m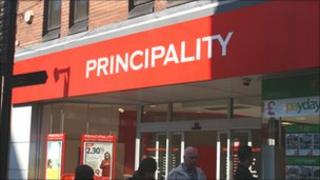 Principality has more than doubled its pre-tax profits in 2010 to £30.8m.
The Wales-based building society, which is the seventh largest in the UK, also reported that savings broke through the £5bn mark for the first time.
Principality had 52,000 new customers during its 150th anniversary year and opened eight new branches.
However, the biggest estate agency in south Wales, Peter Alan, which is owned by Principality, had a "more testing time" in a "depressed market".
Peter Griffiths, group chief executive, said: "I am pleased to report a very credible performance in 2010.
"In the most testing of times we have further strengthened our balance sheet which remains in good shape with increased levels of capital, strong levels of liquidity and much-improved profitability."
He said while the short-term outlook would be "testing", there was room for "cautious optimism".
Principality, which grew slightly during the year, will pursue a "policy of low growth" this year "whilst market uncertainties persist".
'More challenging'
The building society said it would seek to continue to "support people in their home ownership aspiration" and "find new innovative ways to inject funding into Welsh housing".
It expanded its network during the year by opening eight new branches across Wales. A ninth new branch will open this year at Monmouth.
The year was more challenging for its estate agency business, Peter Alan, which saw a reduction in sales volumes.
Principality said the "ongoing lack of credit availability will likely constrain the housing market in the short term".
However, a move into lettings and asset management was said to have "strengthened the franchise and delivered record levels of income".