Welsh Tories unveil veterans' priority card scheme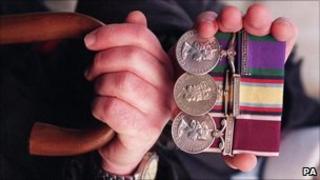 The Welsh Conservatives have announced plans to introduce a veterans' card for ex-armed forces personnel, offering free bus travel and NHS priority care.
The £5m card, for all former service personnel resident in Wales, would also give free entry to council swimming pools and Cadw heritage sites.
Wales has nearly a quarter of a million armed forces veterans.
Welsh Conservative leader Nick Bourne said it would acknowledge veterans' "hard work and determination".
It would entitle veterans to priority treatment for service-related conditions or injuries on the NHS as well as priority delivery of disabled facilities grants for home adaption.
At present, nearly 60,000 former armed service personnel do not currently receive concessionary bus travel.
Mr Bourne said: "It is difficult to imagine some of the things that our armed forces do for their country on a daily basis.
"No matter when or where they have served, this commitment would serve as a small acknowledgement of their hard work and determination."