Police witness plea over Shotton Lane Social Club fire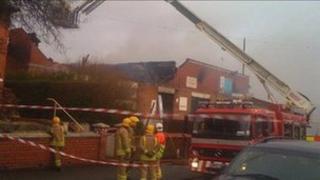 Police are continuing with a "thorough investigation" into a fire at a disused social club in Flintshire.
The blaze at Shotton Lane Social Club, Shotton, forced 100 people from their homes in the early hours of Friday.
The dangerous condition of the building has held up a joint police and fire service investigation and the cause of the blaze has yet to be determined.
North Wales Police have appealed for witnesses.
Flintshire Muslim Cultural Society had an offer accepted to buy the property, which it said it planned to turn into a multi-cultural centre.
The alarm was raised shortly after 0400 GMT on Friday and crews were sent from Deeside, Flint, Mold, Rhyl, Holywell and Wrexham.
North Wales Police have deemed the blaze a "critical incident" and said officers were investigating all possible lines of enquiry, including viewing CCTV footage and "extensive" house-to-house enquiries.
Assistant Chief Constable Gareth Pritchard said: "North Wales Police has launched a thorough investigation into the fire.
"Alongside this investigation we are also focusing on supporting all sections of the community to provide reassurance.
"North Wales Police are continuing to work with other agencies and key community leaders.
"We are appealing for witnesses to come forward with any information that may assist the investigation."
Regeneration
No injuries were reported but some people living nearby took shelter at Deeside Leisure Centre.
John Beard, a community councillor who lives a few hundred yards from the scene, said the fire was obviously serious.
"It was quite a big fire. It was well visible from three or four hundred yards away. It was quite a blaze."
Monchab Ali, chairman of the Flintshire Muslim Cultural Society, said he was "very disappointed" to hear about the fire.
"We were talking with the council about changing use and getting planning permission," he said.
"It would have been good for the regeneration of the area because the club has been closed since the August. It has been vandalised a few times before."
There was a march in Shotton on 22 January by the right-wing English Defence League in protest at plans for the club.