High winds bring road disruption in Wales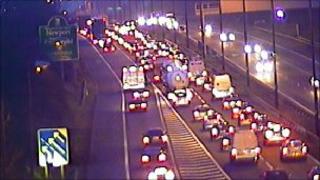 High winds exacerbated a 25-mile queue of traffic on the M4 into Cardiff for the Wales-England rugby Six Nations opening match.
The original Severn Bridge was closed to high-sided vehicles, as thousands of fans headed to the Millennium Stadium for Friday night's clash.
By 18.50 GMT, a 45-minute travel time was reported between Magor and Newport, with the tailback down to seven miles.
Traffic Wales had earlier reported stop-start traffic for 25 miles.
The delays stretched between from junction 19 and junction 25a but the hold-ups were cleared by 2000 GMT.
There were also long tailbacks on the A40 through Ross and Monmouth.
Wales fans Jackie Jones and her husband were driving down from the Cotswolds for the match but are stuck in traffic in Monmouth and were worried they will miss the match.
Jackie told BBC Radio Wales: "We started queuing at Ross-on-Wye and we've been stuck in traffic for an hour now. We get excited if we get up to 10 miles an hour. We've just got into Monmouth and it's hardly moving.
"We're anxious about will we get to Cardiff on time, when we get there will be able to park, and we're nervous about the game. Now we're just nervous we're going to miss it."
High-sided vehicles are also barred from Anglesey's Britannia Bridge.
During Friday afternoon traffic was queuing back from the Second Severn Crossing to before junction 19 with the M32 at Bristol, with the travel time between these two places put at an hour.
Earlier, part of Usk Way in Newport was closed for a time after concerns about part of the roof of the new University of Wales building.
The university said the Newport campus was kept open after a "full inspection".
A university spokesperson said: "Overnight, some pieces of the thin capping which protects the roof came loose in the wind.
"After a full inspection this morning, it was established that the roof itself is sound and the decision was made that it was safe to keep the campus open with access from the north and south entrances.
"A team of engineers are currently working to fix the problem as quickly as possible."
Police said the road closure had caused traffic congestion in Newport city centre.
"This has been put in place for public safety and we thank motorists for their patience and cooperation," police said.
'Extremely concerning'
South Wales East AM William Graham said the damage was "extremely concerning".
"The University of Wales needs to examine the reasons behind today's events and work with the construction company to make sure this cannot happen again," he added.
High winds were experienced across Wales overnight and on Friday morning.
A lane was blocked on the A470 northbound due to a fallen tree between the Abercynon and Abercanaid roundabouts, south of Merthyr Tydfil.
The original Severn Bridge was shut to high-sided vehicles and motorbikes in both directions due to strong winds.
The A55 Britannia Bridge connecting Anglesey and Gwynedd was also closed to high-sided vehicles.
BBC Wales meteorologist Derek Brockway said the strong winds were expected to continue into Saturday.
"We've had strong to gale force winds across Wales. In Aberdaron in Gwynedd, there were 77mph gusts, and 74mph at Lake Vyrnwy.
"It's not exceptional but could bring down the odd tree.
"It's going to continue for the rest of Friday and into Saturday. It may ease in the north on Saturday but strong winds will remain in the south."