10 sentenced after fight follows Chelsea-Cardiff game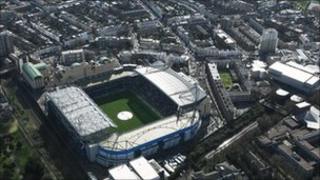 Ten Cardiff City supporters have been sentenced for their part in a violent clash following a match against Chelsea.
A large-scale fight took place near Chelsea's Stamford Bridge ground after the FA Cup game on 13 February 2010.
A London court heard the men were arrested following a joint operation between the Metropolitan and South Wales Police forces.
The 10 are the first of a total of 95 suspects to be sentenced.
They received sentences ranging from community service to 16 months in prison for offences from violent disorder to affray and threatening behaviour.
All pleaded guilty after being caught on council CCTV cameras or via images filmed by intelligence officers.
On Thursday, West London's Isleworth Crown Court heard how police had categorised the game as C-plus - the highest category for potential violence.
The operation was codenamed Operation Turnhill and saw officers from both forces going undercover to spot known troublemakers.
The court heard the FA Cup fifth round match, which Chelsea won 4-1, had kicked off early at 1200 GMT.
It was the first time the teams had faced each other in 18 years and saw 6,000 Cardiff City fans head to London.
Prosecutor Howard Tobias said: "The reputation of the fans and the two clubs alerted police to the high probability of spontaneous and pre-planned disorder. It was believed violence would occur."
The court was told how a young mother with her nine-month-old baby and a seven-months pregnant woman in their cars were caught up in the clashes on the Kings Road after the match.
The pregnant woman told police she feared for the life of her unborn child and her own and was forced to speed away.
One officer suffered a broken jaw in the clash.