Plan for Richard Burton Hollywood Walk of Fame star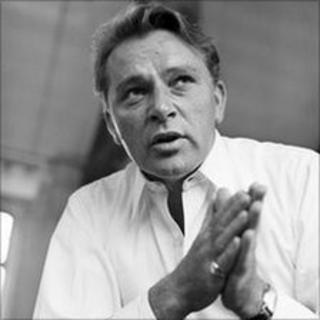 An appeal is being launched to honour Welsh actor Richard Burton with a star on the Hollywood Walk of Fame.
Campaigners hope to raise £40,000, with half the funds used for scholarships in recognition of the miner's son from Pontrhydyfen, near Port Talbot.
The fundraising drive will start at the Wales-England Six Nations clash in Cardiff on Friday.
Burton, who died at 58 in 1984, received seven Oscar nominations, although he failed to win.
The campaign was dreamt up by Prof Dylan Jones-Evans, director of enterprise at the University of Wales, who said: "It's one of those things you do when you're sitting down and you're talking to one of your mates.
"We were talking about the Hollywood Walk of Fame and how many Welsh actors had been honoured.
"We looked it up and Burton wasn't there. We thought it was ridiculous."
The Walk of Fame on Hollywood Boulevard is visited by millions every year and honours stars from the entertainment industry.
One or two posthumous stars are usually accepted from nominations each year, with about 24 honoured in total.
Recent recipients have included Oscar-nominated British actor Colin Firth, who plays King George VI in The King's Speech, and US actress Gwyneth Paltrow.
About £20,000 is needed to put the star in place and maintain it.
The campaign also aims to raise a further £20,000 which will be used to support scholarships at the Royal Welsh College of Music and Drama.
A bucket collection will be held at the Six Nations opener between Wales and England, and a video shown on the big screen before the match.
Burton's actress daughter Kate said: "I am delighted to support this campaign to recognise my father's place in Hollywood history.
"I'm particularly excited that the fundraising will also support scholarships at the the Royal Welsh College, particularly as much of that training will centre around the new theatre that will bear his name."
Dr Jones-Evans said it was important to recognise the achievement of Burton as someone who came from a poor family but went on to became a "world icon".
"We sometimes forget that we have generated world greats from a small nation of three million people," he said.
"A small steel town [Port Talbot] in south Wales has generated Burton, [Anthony] Hopkins and [Michael] Sheen, three of the best actors of their generation.
"We need to not only honour but remember that we really do punch above our weight."
Burton biographer Paul Ferris said he was not surprised there were moves to honour Burton because he had become an "iconic figure".
He believes Burton himself would perhaps have raised an arched eyebrow at such recognition.
"I think he would have denounced it with his tongue slightly in his cheek but secretly he would've been flattered!" he said.