Hopes raised for Cardiff Commonwealth Games bid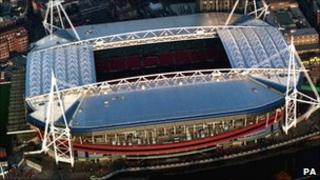 Hopes are rising that Cardiff will be able to put forward a bid to stage the Commonwealth Games.
Initial work to establish Cardiff's potential as a host city has gone very well, according to the body that would formally submit the bid.
The likeliest date for a Cardiff games is 2026, but later years have not been ruled out.
The city hosted the Empire Games, predecessor to the Commonwealth Games, in 1958.
The Commonwealth Games would be a huge event, with 72 teams from around the world and more than 5,000 athletes.
Commonwealth Games Council for Wales executive director, Chris Jenkins, said it was very early days, but Cardiff had a range of excellent venues and it was important not to be left with white elephants.
"I've been very impressed with the options that Cardiff has got. It's got the ability and facilities to host it," he said.
"We would be looking outside of Cardiff for some of the training and competition venues.
"It's been a good start, there's still a long way to go but the initial work has all been very positive."
It emerged that talks began within Cardiff council to look at hosting the Games in 2009.
The next stage would be to put together a detailed feasibility study prior to a possible bid.
"One of Cardiff's main advantages is that it's very compact. Delhi [which staged the event last year] was the opposite where you're travelling a long way between venues," said Mr Jenkins.
"In Cardiff, there's a high concentration of venues that could be used or adapted."
He used the Millennium Stadium as an example, where an option would be to temporarily dismantle the lower tier of seats and install a raised running track.
The 2014 Games will be hosted by Glasgow where the cost will be met by the city council and the Scottish government.
Councillor Nigel Howells, executive member for sport and leisure on Cardiff council, said the city's bid would need the backing of the assembly government.
"If there's a major event, Cardiff can stage it as well, if not better, than anywhere else," he said.
"We're currently doing an early feasibility study. This is getting it clear in our minds that we can do it. We certainly have the will to do it."
Huge event
He added: "The next stage is talking to the assembly government to see if they're able to support it and then how we can formally go about submitting a bid."
An assembly government spokesperson said: "The heritage minister met with Cardiff council last June to discuss their plans to bid for the Commonwealth Games in 2026 and we have asked them to develop a feasibility study.
"We recognise the economic value of hosting major events in Wales and have recently launched a strategy outlining how we can benefit from attracting international sporting and cultural events.
"Once we receive Cardiff council's work, we will consider and respond in due course."
Brian Morgan, professor of entrepreneurship at University of Wales Institute, Cardiff (Uwic), said the infrastructure and expertise to stage such an event was already in place.
"These events have the potential to create a significant economic impact and quite a significant legacy but they have to be managed properly, funded properly and marketed properly," he said.
Cardiff has recently hosted a Rugby World Cup final, FA Cup finals, world championship boxing and rallying, Grand Prix speedway and Ashes Test cricket.
Golf's Ryder Cup was also held nearby at the Celtic Manor Resort at Newport last year.