Dispute over report on 'destitute' asylum seekers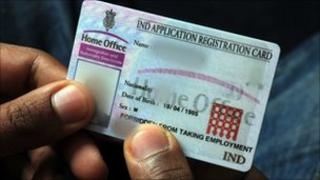 Failed asylum seekers are choosing to live destitute rather than claim benefits, says a Swansea University report commissioned by Oxfam.
It claims thousands live in "social and legal limbo" in the UK because of a discouraging claims system.
Oxfam wants a policy change, but think-tank Migration Watch said the report was misleading and risked reducing support for genuine asylum seekers.
The UK Border Agency said every case was considered on its merits.
The report, published by the Centre for Migration Policy Research at Swansea, said when asylum seekers were refused permission to stay in the UK and choose to appeal they opted to go underground rather than apply for financial support and advice.
The research was carried out by a group of refugees and asylum seekers, who spoke to 45 people who were or had been asylum seekers.
Chris Johnes, head of Oxfam Cymru, said: "These are people who have made heartbreaking decisions to leave their families and flee their homes.
"They end up living as ghosts on the streets of Britain because of government policy and decision making that strips them of their rights and dignity.
"The current system is designed to make people feel as low as possible and sends out a message that those who are refused asylum are not even worthy of our compassion."
Asylum seekers normally receive accommodation and cash support of £35.52 a week while their claims are being investigated.
If they are refused then they are moved to "section four support" which consists of accommodation and a payment card with £35.39 a week to spend in a limited number of shops, on the basis they return home as soon as the UK government considers it is safe.
But the report says that because many have "little faith in the system" and think they have been wrongly denied asylum, they do not apply for the support and advice on offer.
Oxfam wants the UK government to continue cash-based support until refused asylum seekers leave voluntarily, are removed or are granted permission to stay.
The charity also called for a better decision-making process for asylum cases as nearly a third of cases are overturned on appeal which, Oxfam said, highlighted the poor quality of the current system.
But Sir Andrew Green, chair of thinktank Migration Watch UK, criticised the report and said it risked undermining public support for genuine asylum seekers.
"Asylum seekers are supported by the taxpayer right through the asylum process, including the appeal stage, and if they fail they can then be further supported while they make arrangements to return home," he said.
"Failure to remove those who, after a long and expensive process, have no further right to be here can only bring the law itself into disrepute.
Protection
"It's time that charities, however well meaning, gave full support to the rule of law on which the whole asylum system depends, otherwise they risk undermining public support for those who really are genuine refugees."
Hugh Ind, UK Border Agency regional director, said that every case was carefully considered on its individual merits, taking into consideration the situation in the country of origin.
"However, where we and the courts find someone is not in need of protection we expect them to return home voluntarily.
"We operate a number of schemes to assist people to return to their home countries. However, if they choose not to leave we will enforce their removal.
"We do provide financial support while claims are being dealt with, and no asylum seeker need be destitute while they have a valid reason to be here.
"But we strongly believe that funding those who have found not to be in need of protection would act as an incentive to frustrate the system and stay in the UK."