Plaid Cymru 'insistence' behind poll date, says Hain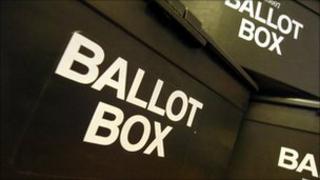 Shadow Welsh Secretary Peter Hain has said the referendum on assembly powers is only happening on 3 March because of Plaid Cymru's insistence.
Mr Hain said he believes now is not the best time to hold the referendum, and warned that turnout will be low.
The poll will decide whether the assembly should have full law-making powers in areas like health, education and transport.
Plaid Cymru said Labour voted in 2007 to hold the referendum before May 2011.
The One Wales agreement signed after the last assembly election in 2007 bound both parties to seek a referendum within this assembly.
Mr Hain, the architect of the legislation that has led to the referendum which takes place in a month's time, said: "Clearly the Plaid Cymru insistence on holding the referendum before May 2011 is the reason we have a referendum on March 3rd.
"We wouldn't have had one otherwise.
"It's not the best time to hold a referendum. I fear the turnout will be low. But that's what's been decided."
Mr Hain added that, although he had previously advocated consideration of a referendum "in the next assembly term" he had now reached a "turning point" on the issue because of the effect of UK government cuts on Wales.
He argued that S4C's budget had been cut, the Newport passport office closed, the St Athan Defence Training College axed, and the Severn Barrage abandoned, all without consultation in Wales.
Mr Hain said: "I think that's created a backlash in which people are saying, who previously would have been reluctant to vote Yes, are saying 'Hang on, I think we need a bit more power in Wales to be able to resist right-wing attacks from Westminster'."
Rachel Banner of True Wales, campaigning for a No vote, echoed Mr Hain's comments on Plaid Cymru.
She told BBC Radio Wales: "I think there's no doubt that having the nationalists in government here in Cardiff Bay has introduced a more separatist dynamic into the equation.
"I do believe there will be a problem with turnout and we in True Wales are very concerned that it could be around the 30% mark.
"We also suggested at the beginning, we agreed with Dafydd Elis-Thomas, that a good time to hold the referendum would have been on assembly election day when the turnout would have been better and would have also saved the Welsh electorate £5m to £8m."
A Plaid Cymru spokesperson said: "The referendum is a much needed chance to move Wales forward. This is why the Labour party voted in 2007 to hold the referendum before May 2011.
"All four parties in the National Assembly and people across Wales are supporting and campaigning for a Yes vote because the current system wastes time and money and is hampering our assembly from making positive changes to our country."
Roger Lewis, chairman of the Yes for Wales campaign, commented: "I'm not a member of a political party so I've got no political axe to grind and no political scores to settle... Let's get on a do it. We've got to get on and do it.
"This is what this referendum is all about, getting on and fixing a system which doesn't work, get a Yes for Wales to make Wales as big and as better as we can make it."