Hospitals fail to protect privacy of patients in wards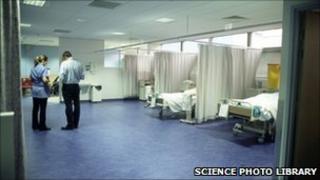 A health watchdog has raised concerns about the lack of single sex facilities in Welsh hospitals.
The Health Inspectorate Wales (HIW) said the layout of wards did not always "support privacy and confidentiality" for patients.
And it said access to single sex toilet and washing facilities varied greatly from hospital to hospital.
The assembly government said work was ongoing to "improve the privacy and dignity" of patients in care.
The HIW's annual report for the 2008-2009 year has just been published.
It also found that services were still "failing" many children and young people with emotional and mental health needs and there was "too much variation" across Wales in the availability and quality of services.
Last year the UK government pledged to end most mixed sex hospital accommodation in England.
The UK government Health Secretary Andrew Lansley said he was determined to end the practice and will introduce new NHS sanctions for those not complying.
The assembly government has until 31 March 2011 to meet the requirements of its own policy on single sex hospital accommodation.
The HIW report, which is based on spot checks and monitoring, said: "Overall, we found that the majority of wards and clinical areas visited were safe and generally facilitated the treatment of patients and service users with dignity and respect.
"However, we were concerned that the layout of wards does not always support privacy and confidentiality, e.g, whilst the use of curtains around beds ensures privacy is maintained it is still possible for people to overhear what might be sensitive conversations.
"Availability and access to single rooms, segregated washing and toileting facilities and single sex bays is varied."
Eating disorders
The report also found that despite improvements, services for children and young people with emotional and mental health problems were still failing.
In particular there was too much variation in the standard of care given to those with eating disorders and unlike the rest of the UK there was no specialist mental health services for the under fives.
The health service, councils and the voluntary sector were criticised for not co-ordinating their work more efficiently.
Infection control within hospitals was another issue which concerned inspectors, with hospital staff seen as too reliant on using gloves for all patient contact.
Mandy Collins, deputy chief executive of HIW, said: "I think we have got some excellent examples of modern design with single rooms that will help manage infections far better, but then we have lots of older estates that do need improvement.
"Elderly mental health wards are often in older estates and are very clinical, rather than homely, and a long way from being fit for purpose to meet people's needs.
'Privacy and dignity'
"Many organisations have tried to refurbish wards as best they can but it's [also] about having access to outdoor space, not having strip lights and having as much daylight as possible so people know what time it is, so lots of areas for improvement there."
An assembly government spokesman said: "We have received the HIW report and are considering its findings and recommendations.
"Work is ongoing to improve privacy and dignity of care of patients.
"We have invested significantly in refurbishing current hospital wards to improve privacy and Ysbyty Aneurin Bevan, Ebbw Vale - the first all single room hospital in Wales - was officially opened recently.
"The new Ysbyty Ystrad Fawr, Caerphilly will also have all single rooms and the new Cynon Valley Hospital, Mountain Ash, will have 50% single rooms and 50% single sex wards.
"Improving privacy and the care environment for patients is key to the mental health units that have either been developed or being built."