Pupils snub free school meals over poverty 'stigma'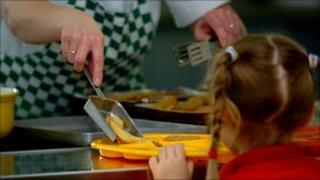 Pupils in Wales would rather go hungry than eat free school meals because of the stigma of poverty, AMs have found.
The average take-up of free secondary school meals is 68%, the assembly's children and young people's committee inquiry discovered.
It called for the assembly government to issue schools with "clear guidance" on how to implement a stigma-free meals system.
An assembly spokesperson said they "actively encouraged" cashless systems.
The findings are the outcome of an inquiry into child poverty by the cross-party committee.
It found some children would rather forgo a meal than risk humiliation from peers.
It also found that the aspirations of children in poverty are the same as those from better off families when they are seven or eight years old, but by 10 or 11 their aspirations are significantly lower.
It recommends that the assembly government ensures that teachers are trained to identify and intervene at an early stage to support young people living in poverty.
Committee chair, Helen Mary Jones AM, said although the assembly government is working to eradicate child poverty, progress is "patchy" and there are still areas of "real concern".
"We must look at how the free school meal system is operated," she said.
"We heard of the benefits of a 'cashless' system - where every pupil uses the same payment method - and we urge the Welsh (Assembly) Government to consider a similar system."
"We must also tackle the perception that young people living in poverty have themselves; that financial security and a career is something that 'other people' have.
"Teachers must be fully equipped to support these people so that they are given the best possible chances and are served by an agenda that is strategic and co-ordinated."
Poverty strategy
Individuals and organisations that gave evidence to the inquiry included children who have experienced poverty, Save the Children and the End Child Poverty Network.
An assembly government spokesperson said it was important that pupils entitled to free school meals are not stigmatised.
"Local authorities and schools can, if they wish, put in place cashless systems to purchase school meals and we would actively encourage this.
"We have made a clear commitment to doing everything within our power and using every lever available to us to achieve our aspiration to eradicate child poverty by 2020.
"We will now take time to consider the committee's report in detail and will respond in due course."
On Thursday, Carwyn Jones and Deputy Minister for Children Huw Lewis launch the assembly government's child poverty strategy which will call on all levels of government and all organisations to play their part in tackling this issue.