Bird egg smuggler Jeffrey Lendrum has sentence cut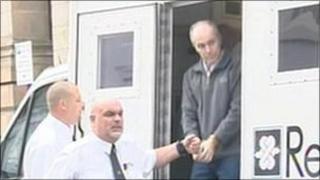 A man who admitted attempting to smuggle rare bird eggs out of Britain has had his sentence cut to 18 months at the appeal court.
Jeffrey Lendrum, 48, of Towcester, Northamptonshire, took the eggs from peregrine falcon nests in south Wales.
He was caught by police at Birmingham Airport with egg boxes strapped to his chest.
Appeal court judge Sir Christopher Holland said the original 30-month sentence was "excessive".
The judge said Lendrum, who once served in the Rhodesian SAS, had hoped to trade the eggs for up to £70,000 in overseas markets.
He had climbed to the tops of trees in the Rhondda valley to take the eggs before abseiling down, the court in London heard.
Lendrum sparked a terrorist alert at the airport after a cleaner grew suspicious when he kept disappearing to the toilet.
When caught by police, he had been trying to examine the condition of the 14 eggs, fearing they may have perished.
The falcon eggs had been placed in socks before they were taped to his body.
The judge said the eggs were in good condition when recovered, and 11 of them were eventually "returned to the wild".
Lendrum was jailed at Wolverhampton Crown Court in August last year.