Police forces in Wales to collaborate to cut costs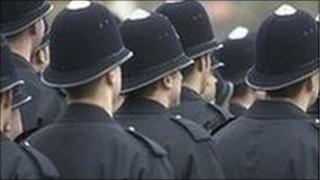 Police forces in Wales have agreed to collaborate in key areas to cut costs to try to maintain front line services.
It is estimated 1,600 jobs could be lost across the nation's four forces over the next four years.
They face budget cuts due to the UK government's spending review announced last October.
Seven key areas identified include uniting to fight specialist crime, pooling scientific support, joint firearms training and ICT.
The collaboration has been agreed at a meeting of the Police Authorities Wales (PAW).
It represents the four Welsh police authorities helping to manage Dyfed-Powys, Gwent, North Wales and South Wales police forces.
The PAW says it has a continued commitment to protecting front line services while facing pressure to cut costs.
South Wales Police alone faces a £47m funding gap over the four years which equates to 688 officers and staff whose jobs could be lost.
The PAW said details of how the joint projects will operate will become clearer over the coming months.
Chair Delyth Humfryes said: "Faced with ever-changing threats to our communities, one of the toughest challenges for police forces is to deliver services with reduced budgets.
"In order to achieve this, it has been accepted that Welsh forces cannot operate in isolation, and subsequently, the four police forces and authorities in Wales have sought new ways to work together.
"There are some excellent examples of collaborative ventures that are already in place, notably, TARIAN the regional drugs and organised crime unit, and the Wales Extreme Counter Terrorism Unit (WECTU)."
Each collaborative project will involve forces to varying degrees with some operating on a two-force model, others on a three or four-force model.
PAW said policing in Wales will, in future, be delivered through a "laminate policing model", serving the public through a range of local, regional and national arrangements.
South Wales Chief Constable Peter Vaughan, chair of the Association of Chief Police Officers in Wales, said: "The police service is facing significant financial challenges, and if we are to continue to deliver a quality service for the people we serve, we must seek new ways to collaborate in order to drive unnecessary costs and processes from our business.
"The collaborative projects agreed at PAW are the next step in our collaborative journey.
"Police forces will continue to explore further opportunities for collaboration and ensure we provide the best service for communities across Wales, with the resources available."