Welsh soprano Dame Margaret Price dies, aged 69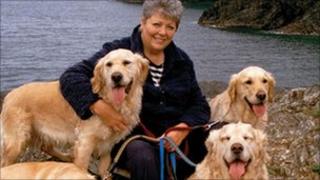 Dame Margaret Price, who was considered one of the world's leading sopranos, has died at the age of 69.
She passed away from heart failure on Friday morning at her home near Cardigan, Ceredigion.
Dame Margaret had performed in venues all over the world.
Born into a musical family in Blackwood, Monmouthshire, she was encouraged to sing by her family, although her father was against a career in music.
In her youth she rarely competed at Eisteddfodau - Welsh cultural festivals in which singing plays a major role - and dreamt of becoming a biology teacher.
But on her music teacher's recommendation she went to London to sing for conductor Charles Kennedy Scott.
A scholarship to study with him at the Trinity College of Music followed when she was just 15.
She made her acclaimed operatic debut with Welsh National Opera as Cherubino in Mozart's The Marriage Of Figaro in 1962 before becoming famous overnight when she stood in for Teresa Berganza at the Royal Opera House.
At this point, she was still singing mezzo, but her voice was developed into a soprano and within a few years she was in huge demand.
Her career saw her performing in venues like the Royal Opera House in London, New York, Vienna, Paris and the Bavarian State Opera in Munich.
She was described as having "one of the most beautiful, luminous voices ever to grace the opera and concert stages," and having "legendary status with her singing of some of the most difficult and elusive music in the repertoire - that of Mozart - using a winning combination of purity and beauty of tone and a flawless technique".
She returned to Wales to perform many times, including recordings of Mozart's C Minor Mass and Beethoven's Missa Solemnis for BBC Wales TV in the 1980s.
She was awarded the CBE in 1982 followed by the DBE in 1993.
The Munich Opera honoured her with the title Bayerische Kammersangerin.