700 police in Wales 'off sick or on reduced duties'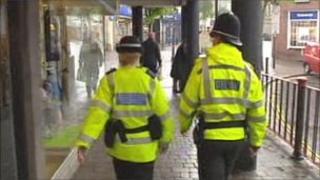 Almost one in 10 police officers in Wales is either on sick leave or carrying out limited duties, according to new figures.
Around 700 of 7,422 officers are unable to perform full duties, with 162 on long-term sick - 28 days or more.
The TaxPayers' Alliance in Wales said the figure was too high.
But the Police Federation of England and Wales, which represents officers, said policing was a "contact sport" where injuries were possible.
The figures have been compiled from Freedom of Information requests by BBC Wales news website to the four Welsh forces.
Steve Williams, secretary of the Police Federation in Wales, said: "Policing is very much a contact sport for want of a better term.
"It very often involves violence and can lead to injury."
But Lee Canning, of the TaxPayers' Alliance in Wales, said he believed the one-in-10 figure was too high.
And he said he was concerned about the amount of bureaucracy involved before officers could return to work after an injury.
The figures suggest North Wales Police has the lowest proportion of officers on sick leave or restricted/recuperative duties - one in 15.
For the other forces in Wales, the figure is around one in nine or 10 officers.
North Wales Police also has the fewest number of officers on long-term sick leave, despite having more officers than Gwent and Dyfed-Powys.
The figures mostly relate to 21 January this year, the date the request was made to the forces.
Mr Williams said improvements had been made in the support available to officers returning from sickness or injury.
"In years gone by, you were hung out to dry and left to sort yourself out," he said.
"Now, you're offered support and welfare, and offered physio if you have got, say, a shoulder injury.
"They're helping people come back to work sooner rather than later.
"There are also processes in place to deal with the lead-swingers, if you like."
Officers on long-term sick leave receive their full salary for six months, then reduced pay after that.
The Welsh forces said they offered a range of support to help staff back to work.
Gwent Police said the number of officers on long-term sick leave was "relatively low" and compared favourably "with many public sector organisations and other police services".
"Gwent Police has a specialist occupational health team who provide support and, where appropriate, rehabilitation programmes to officers and staff," a spokesperson for the force added.
South Wales Police said it constantly strived to further reduce sickness through "robust absence management, improved welfare standards and safer working environments".
"There has been a downward trend in the number of days lost to sickness in the force since the period of 1999 to 2011," added Mark Milton, South Wales Police human resources director.
'Timely intervention'
Dyfed-Powys Police said its approach provided "positive support in order to facilitate an early return to the workplace".
A spokesperson said the force's policy of "timely intervention in health and wellbeing issues" increased the likelihood of staff returning to the workplace more quickly and ensured that "optimum efficiency" was achieved in the deployment of resources.
North Wales Police has also been asked to comment.
A Freedom of Information request by The Times last year found around one in 10 officers in England were on sick leave or limited duties.
The figures varied from nearly one in seven officers in Warwickshire to one in 24 in Cambridgeshire.