Number of women AMs 'set to drop' after election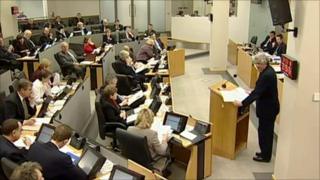 There are concerns that there could be a significant drop in the number of women assembly members after May's election.
There are now 29 female AMs but according to one estimate the figure could fall to as low as 18.
A number are standing down and most have been replaced by male candidates.
Changes to the political parties' policies on selecting candidates could also mean that fewer women are elected.
Labour and Plaid Cymru adopted policies to ensure gender balance when choosing candidates for the first assembly election in 1999 which led to the election of 24 women among the 60 AMs.
Four years later, Wales' legislature was heralded as the first in the world to have an equal number of men and women.
Over a decade of progress in gender equality in the assembly could be under threat, according to Prof Laura McAllister, from Liverpool University.
Speaking on BBC Wales' Dragon's Eye, she said: "All the signs are that we're likely to go down to between 18 and 23 women, and of course that's quite a substantial drop because at the moment we have 29 which is around 48% of the overall number of AMs."
Prof McAllister said the high number of women elected to the assembly was largely due to policies adopted by Labour and Plaid Cymru for the first election in 1999.
Labour's policy of "twinning" paired constituencies so that one woman and one man would be chosen to stand in the election.
A woman had to top the five regional lists under Plaid Cymru rules.
Both parties have dropped those policies but have other have mechanisms to ensure women are selected, but Prof McAllister said they were not as effective.
She said: "Both of those policies were very successful but what's happened subsequently is that both parties have rowed back from that and there's no positive action of a really meaningful kind in these elections."
A Welsh Labour spokesperson said: "We have done more than any other party in Wales to support female representation.
"Unfortunately, in the past the other parties have been strong on rhetoric, but short on action."
All the parties need to keep up efforts to ensure gender balance, according to Plaid Cymru AM Bethan Jenkins.
'Training'
She said: "I think positive action has to be here to stay for a long while yet.
"The shape of politics changes if we have more women involved."
The Welsh Libs Dems have not used positive discrimination but at least half of their six-member team have been women since the start of the assembly.
The party said it offers training to encourage and help potential female candidates.
The Conservatives currently only have one female AM in their group of 13, but said they had taken stronger action ahead of the 2011 assembly election to ensure more women were standing.
The Welsh Conservatives' policy director David Melding admitted it was a problem.
"It's not good enough obviously and we need to do better and we've started to put in place procedures to ensure these outcomes are improved," he said.