Nicky Wire on Manics' nerves before home town Welsh gig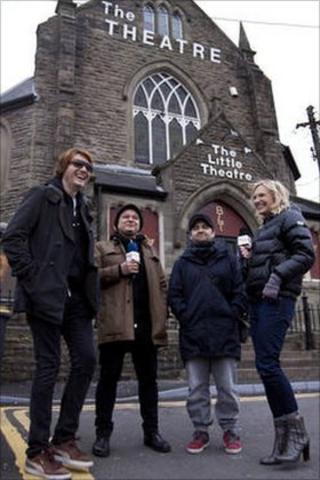 Their music may have taken them around the world, but the Manics have never forgotten their Welsh roots.
And the trio finally made a return to their home town on Thursday, playing their first gig in Blackwood, south Wales, in 25 years.
The Miners Institute concert was performed in front of just 350 fans. Some queued all day to see the return.
Bassist Nicky Wire described the moments before going on stage wearing his old school tie as "sheer terror".
"Hometown gigs are always really fraught but this one in particular was kind of emotional and kind of resonated deeply in us all," he said.
The gig had been postponed in December because lead vocalist James Dean Bradfield was suffering from laryngitis.
The band played songs from the start of their career and some performed the last time they played in Blackwood - at the Little Theatre.
Fans went along dressed in early Manics' garb with lots of leopard print, said Wire.
"It was just great doing it in the Miners' Institute," he said, adding that lyrics from songs like Design for Life sum up a "version of where we grew up" with the institute highlighting the "sacrifice people made to build those buildings".
"I took on some sort of social history, I think. It's something engrained, a typically Welsh way."
On-stage references were made to Oakdale Comprehensive which Wire said he attended and where former boxing world champion Joe Calzaghe was also a pupil.
"It's not a bad school is it?" he told BBC Radio Wales the morning after the gig.
"One of the great bands and the greatest boxer of all time. I can live with that."
Wire, who stills returns to Blackwood to see his parents, said he stopped for chips at a favourite local takeaway.
"They were as good as ever," he said.
Before the gig, the band took BBC Radio 2 DJ Jo Whiley on a tour of their old haunts around Blackwood.
"I think the worst thing you can do for your old town is over romanticise it and then come back and 'large it' down the high street - we've never done anything like that," said Wire.
"It just got the old goose bumps going a bit," said Wire referring specifically to revisiting the Little Theatre where the band performed last.
Thursday's gig was recorded for a BBC Radio 2 in Concert show which can be viewed on BBC TV on Friday via the red button.