Wales 'lacks ability' for full powers says campaigner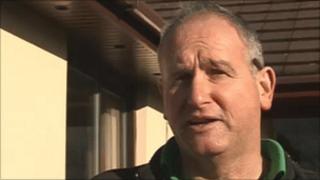 A businessman campaigning against more powers for the Welsh assembly says not enough people in Wales have the necessary ability for the assembly to take on full law-making powers.
Paul Matthews, a member of the True Wales campaign, said there was a lack of creativity and innovation in Wales.
Mr Matthews said: "I think not enough people have the abilities."
Yes for Wales campaigners criticised his comments saying they were holding Wales back.
No campaigner and Newbridge businessman Paul Matthews said it would not be surprising if people in England were more innovative than those in Wales.
Mr Matthews told BBC Wales: "I wouldn't agree no-one has the abilities. I think not enough people have the abilities.
"We're only three million and there's something like 60 million in England so it wouldn't be surprising if they were twenty times more innovative than us."
Mr Matthews said there are "one or two" assembly members "that are pretty competent" but said that on the whole he did not believe they were up to taking on full law-making powers.
Talent pool
He claimed there was a lack of creativity and innovation in Wales and added that Wales did not seem to produce major companies, like Virgin.
He said: "We've got too small a pool of talent and if you do come up with something innovative and creative, and you want to target the big markets, there are more people in England who take your innovation forward."
Similar coments Mr Matthews made to the Insider Media Limited website have been condemned by supporters of the Yes for Wales group which is campaigning for a Yes vote in the referendum.
The website quotes Mr Matthews as saying: "I am a Welsh person. We're not the most innovative or creative, and very often those that are, move out of Wales."
Businessman Nick Evans, speaking on behalf of Yes for Wales, said attitudes like this were holding Wales back from "being able to compete on the international stage."
He said: "We need to believe in ourselves, think bigger and use the creative and innovative talent that is in abundance in Wales to grow and prosper, not be a breeding ground for negativity which will ultimately send people to Scotland or Northern Ireland to look for work.
"To do this we need an assembly that has legislative powers that can hear our voices easily and quickly so that we can respond, adapt and support our businesses at the brisk pace of global markets, not sit idly by while we wait and try and cut through needless bureaucracy and red tape while the rest of the UK and world passes us by."