Robber raids garage that sold him Halloween mask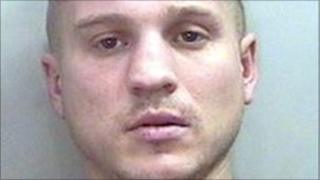 A robber has been jailed after CCTV images showed he was the man who bought a "scary" Halloween mask from a garage he raided days later.
Neil Simons, 27, was the only person to buy the £3.99 mask from the Co-op petrol station in Llandaff, Cardiff.
Cardiff Crown Court heard Simons returned at night three days later with an axe and threatened a woman cashier.
Simons, from Fairwater, Cardiff, admitted robbery and was jailed for five years.
John Probert, prosecuting, said: "The cashier thought it was a colleague playing a practical joke until she saw the axe.
"She was frightened and she pleaded with Simons not to use the weapon.
"He said he wouldn't as long as she did what he said - and she handed over between £40 and £50."
The court heard Simons was caught when police looked at CCTV recordings which showed he was the only person to have bought the mask at the site, which he robbed in November last year.
Kieron Malloy, defending, said: "The fact he bought the mask then returned to the same petrol station wearing it, shows it wasn't a sophisticated crime."
The court heard that the defendant, a redundant asbestos remover, wanted to pay off drug debts.
Judge Philip Richards said: "It must be absolutely terrifying to be confronted in the dead of night by someone wearing a disguise and carrying a weapon."