Ieuan Wyn Jones calls for more rail strike talks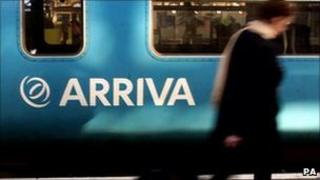 Deputy First Minister Ieuan Wyn Jones has called on both sides in the planned Arriva Trains Wales (ATW) strike to negotiate to try to avert the action.
Mr Jones, said the planned strike on the day of Wales' Six Nations opening rugby game on 4 February, would cause "unnecessary inconvenience".
An estimated 32,000 fans usually use the company's services on match days.
Rail union RMT said the 12% pay offer over two years was "unacceptable" but ATW said it was "the end of the line".
The strike is due on the opening day of the Six Nations rugby tournament, when Wales host England in a Friday evening match at the Millennium Stadium in Cardiff.
RMT general secretary Bob Crow has said Arriva's offer would leave his members "with an effective pay cut which was loaded with strings".
The train operating firm's operations and safety director, Peter Leppard, said it was "still talking" to the rail union but a resolution before next Friday "does not look hopeful".
'Astonishingly good'
He said the firm would normally carry around 32,000 passengers to an international rugby match and that there was no "Plan B" to provide buses.
He told BBC Radio Wales: "With great sadness, it looks like we just have to say to people I'm sorry we can't help you."
Mr Leppard called the strike "completely unjustifiable".
He said the pay offer would raise an Arriva driver's basic salary to £39,117, an "astonishingly good" income in Wales and a "mid table" salary among train drivers in the UK.
"Whether it be right or wrong, people generally in Wales are paid a little less than the rest of the UK because that reflects the Wales economy," he said.
"We're paying the market rate for staff in Wales."
Transport Minister Ieuan Wyn Jones said: "We can't get involved because no government should actually get involved in industrial relations matters.
"But I have made it clear that if the strike goes ahead, it will cause disruption and unnecessary inconvenience to thousands of passengers.
"So I'm actually calling on both parties to get round the table to see whether we can solve this before Friday."
Mainline services operated by First Great Western from London to Swansea via Cardiff would not be affected.