Major bowel surgery suspended at Prince Philip Hospital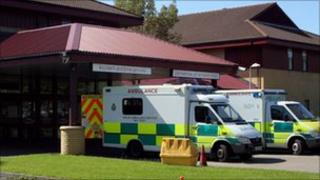 Major bowel surgery has been suspended since last spring at Prince Philip Hospital, Llanelli, while a review takes place, it has been confirmed.
The Royal College of Surgeons is looking into a higher than normal number of complications after these procedures at the hospital.
The surgery was suspended after a routine audit in April 2010. Other surgery is continuing as normal.
The health board said the investigation was requested as a "precaution".
The Royal College of Surgeons team met Hywel Dda health board on Wednesday, with a view to producing an independent report.
While major bowel surgery is suspended at the hospital, patients are instead attending West Wales General Hospital in Carmarthen.
The two surgeons involved have been able to continue working but not carry out major bowel surgery.
A spokesperson for Hywel Dda health board said: "In April 2010, Hywel Dda health board requested the Royal College of Surgeons to undertake a review into the specific outcomes of elective major colorectal [bowel] surgery at Prince Philip Hospital.
"This review was requested as a precaution and in the interests of us being able to guarantee our standards of care and ensure patient safety.
"Whilst the review was awaited, the major colorectal surgical service was temporarily suspended at Prince Philip Hospital in Llanelli.
"Today [Wednesday] the Royal College of Surgeons is meeting with the health board. It is hoped that no major concerns will be identified and that the two surgeons involved will return to major colorectal work."
BBC Wales health correspondent Hywel Griffith said: "The Royal College of Surgeons typically carries out this type of investigation about once a month so it doesn't happen every day in every hospital.
"This is definitely noteworthy but not a million miles away from the normal work the college does in England and Wales to review cases."