Arriva Trains Wales rail strike on Six Nations opener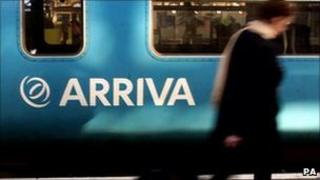 Some train services look set to be disrupted in Cardiff on the day of Wales' opening Six Nations match against England.
Rail union RMT says it will strike on Friday, 4 February after talks with Arriva Trains Wales over pay broke down.
Arriva Trains Wales (ATW) said its offer, a 12% pay increase over two years, was "very generous".
In December, ATW train drivers held a one-day strike over pay and conditions.
The strike falls on the day the Wales rugby team play England in an evening fixture at the Millennium Stadium in Cardiff.
ATW, which operates train services across Wales, said the strike "will cause disruption and inconvenience for many thousands of rail passengers and rugby fans".
It said: "Despite several increases the unions still have not accepted the latest offer and the dispute remains unresolved."
RMT general secretary Bob Crow said the offer was "unacceptable" and would have left members "with an effective pay cut and which was loaded with strings".
He added: "We have held a full consultation with our members and they are clear that the current position of ATW does not go far enough to protect their standard of living."
First Great Western (FGW), which runs services between Swansea and London, said its services would not be affected.
There are FGW services after the final whistle on 4 February from Cardiff Central to Swansea at 2226, 2257, 2328, 2343 and 0055.
Heading in the opposite direction towards Bristol, there are trains at 2204, 2249, 2315 and 2330.