Gwynedd woman denies drugs charges in Malaysia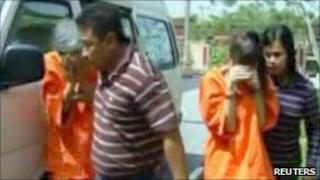 A Gwynedd woman has appeared in court in Malaysia and pleaded not guilty to drugs possession and trafficking charges.
Shivaun Orton, originally from Harlech, and her Malaysian husband were arrested in December after police seized drugs including heroin and ecstasy worth £15,000 from their home.
They could face the death penalty if found guilty of the charges.
Her family's local MP has contacted the Prime Minister asking him to intervene.
A district magistrate court official said: "Shivaun Orton and her husband Abdul Harris Fadilah pleaded not guilty to the eight charges of possessing and trafficking drugs.
"As the chemistry reports have yet to be submitted to the courts, the next mention has been set for March 31," she said.
State anti-narcotics chief Roslan Abdul Wahid said the couple have been denied bail and that police have completed their investigation and submitted their report to state prosecutors.
The couple, who have been married for 20 years and have two teenage sons, run a holiday chalet business at the popular beach resort of Cherating in the northern state of Terengganu.
Elfyn Llwyd, Plaid Cymru MP for Dwyfor Meirionydd, said: "I don't know the exact circumstances of the accusations but, from what I'm told, the family say that she knew nothing of the offences or what had happened.
"So, therefore, she's in a very precarious position and that's why I hope the Foreign Office minister and the Prime Minister will intervene on her behalf early on in the process."
The couple's home in Cherating, an area popular with backpackers, was raided on 13 December.