First stop Wales for ancient Chinese Dazu carvings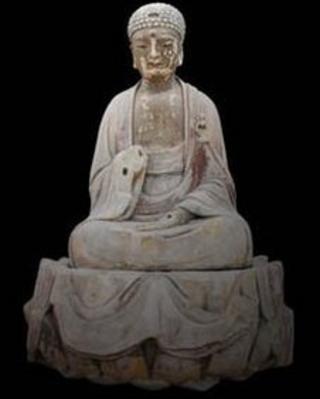 A tiny piece of ancient China is going on show in Wales for the first time.
Buddhas and other carvings sculpted in rock at Dazu - now a world heritage site in the south west of China - are being exhibited at the National Museum Cardiff.
It is the first time that the sandstone carvings, some dating back to the 7th Century, have travelled outside their homeland.
Chinese authorities say they are "honoured" to take the carvings to Wales on the first stop of what promises to be a planned world tour.
The museum describes acquiring the 10-week exhibition as a "coup" which will hopefully help increase its profile on the international stage.
Five million visitors each year go to the Dazu World Heritage Site near Chongqing, where most of the 50,000 statues are still in situ carved out of steep hillsides at 75 sites.
It is the largest example of Buddhist cave temple art. The carving started in the 7th Century and continued for more than four centuries.
Many of the exhibits have been discovered in recent excavations.
Zhou Bo, Chongqing county magistrate, said it was the first time the carvings have been shown outside China, but it is planned to also take them to North and South America, Africa and Australia.
He said they hoped to show the importance of the world heritage site "to all humankind".
Mr Zhou said the carvings were a fine example of humanism, predating by some 400 years the great Italian art of the Renaissance.
He said compared to the great art of ancient Greece and Rome, the sculptures showed exceptional skills because they were carved on the hillsides of Dazu.
The sacred carvings were also "home to Chinese gods and the place where people come to express their spirituality and worship," Mr Zhou said.
Dazu is also an example of how the three religions of Buddhism, Daoism and Confucianism had co-existed.
This exhibition has grown out of a developing relationship between China and Wales, started when Premier Wen Jiabao visited in 2000.
An official memorandum of understanding was signed when Wales' then First Minister Rhodri Morgan visited Chongqing in 2006.
This is the first real fruit of that collaboration, but now it is hoped there will be a return exchange with artefacts from Cardiff going to China.
National Museum Cardiff's head of applied art, Andrew Renton, said this exhibition could help raise its profile on the international stage.
"This sort of exhibition would be perfectly at home at the British Museum or the V & A," said Mr Renton.
"What this is about is trying to give our visitors a flavour of what it would be like to visit the Dazu World Heritage Site which is really an overwhelming experience."
Mr Renton said: "For me the central Buddha as you come into the exhibition represents one of the key themes. I think it gives a really powerful sense of what this Buddhist site is really like.
"It's the sense of inner peace and contemplation it gives. It transports you to a different dimension somehow."
Cheng Wuyan, deputy director general of Chongqing Bureau of Cultural Relics, called the exhibition a "triumph".
"I hope that this exhibition will deeply impress the British people and that they will get a better understanding of Dazu World Heritage Site," he said.
The exhibition From Steep Hillsides: Ancient Rock Carvings from Dazu, China runs from Wednesday, 26 January to Sunday, 3 April.