Carwyn Jones challenged about NHS budget 'cuts'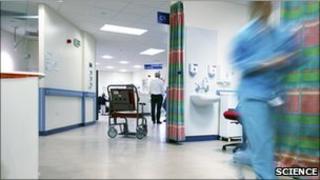 First Minister Carwyn Jones has defended Welsh health spending after the opposition said shrinking budgets would threaten waiting times.
The Welsh Assembly Government had done the best it could with the money it received from Westminster, he said.
It comes after it was revealed that hospital accident and emergency departments failed to hit waiting time targets last year.
Mr Jones was challenged about the figures at question time in the Senedd.
Just over 81% of patients were seen in less than four hours at major A&E departments in December. The target of 95% was missed every month between December 2009 and 2010.
The assembly government's draft budget for the next financial year, unveiled last November, includes a 7.6% real-terms cut in health spending.
Welsh Conservative leader Nick Bourne said a decision to freeze NHS funding next year amounted to a £1bn cut.
"How is your budgetary position not going to make matters far worse?" he asked Mr Jones.
"You have not made your target in a single month over the previous 12 months."
Mr Jones accused the Tories of failing to explain how they would fund a pledge to increase health spending in line with inflation.
'Budget frozen'
December was a difficult month for the health service because of the bad weather, Mr Jones said.
"Your government - the government that funds this institution - decided to reduce the Welsh budget by, in terms of capital, 40%, and in terms of revenue 7%.
"That means there is less money around to fund public services, including the NHS in Wales.
"You keep saying £1bn is being taken out of the NHS budget.
"What you have never explained is given the financial settlement your party has imposed on Wales where on earth would you get this money from."
He said the budget for the health service was not being cut, but was being frozen next year.
"We can't do more than that given the financial settlement that we have had imposed on us by your government in Westminster," he said.
"We have done our best with the settlement we have received for the good of the people in Wales."
Paying for the Conservatives' health policy would "wreck the education system", he added.