Head teacher pulls out of assembly powers Yes campaign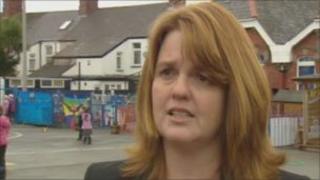 A head teacher will play no further part in campaigning for a Yes vote in the Welsh assembly powers referendum after a complaint she took children to a campaign event.
Four pupils from Barry Island Primary School accompanied Janet Hayward to the launch of the Yes for Wales website.
The children's parents consented to the trip, the school said.
But the school said Mrs Hayward would have no further part in the campaign after a political activist objected.
UK Independence Party (UKIP) political adviser Kevin Mahoney complained after Mrs Hayward took the children to the event.
Responding to the complaint, Dave Vining, the vice-chairman of the school's governors, said the children were members of the school council and were invited to the event in Barry because the school had recently won an award for information technology.
Parental consent was obtained and the visit took place during the lunch break.
"At the event itself the children did not speak to the media and at no time was it suggested that they were endorsing the campaign," Mr Vining said.
Mrs Hayward had personally offered her support to the Yes campaign "as she believes in the principle of devolution".
"On reflection and looking at it in a broader political context, the headteacher accepts that school involvement in this event could have been misconstrued," said Mr Vining.
"She has no personal political aspirations and regrets that this has now become a political issue and she will have no further involvement in the campaign."
The governing body would review the involvement of pupils in such events, he added.
A Yes for Wales spokesman said: "Janet Hayward was keen to draw on her own experience of education as an award-winning headteacher to highlight some of the successes Wales has been able to achieve since devolution.
'Political prop'
"She is not a member of any political party and was happy to be involved in a campaign that was above party politics."
He said the school's chair of governors Lee Waters, a member of Yes for Wales' steering committee, met the children the day before the visit to discuss the referendum and "to explore the arguments both for and against".
Mr Mahoney said children should not be used as a "political prop".
He complained the children's attendance at the event broke the law and said he had arranged a meeting about the matter with the chief executive and director of education at Vale of Glamorgan council.