Weather blamed for ambulance response times in December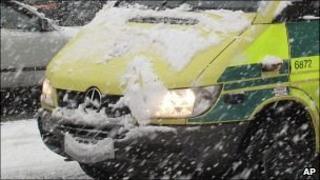 Bad weather has been blamed for the Welsh ambulance service missing its eight-minute emergency response target in December.
There were 35,600 emergency calls that month, a 23% increase on November.
But there was a sharp drop in ambulance response times, with 47.2% of emergency calls reached within eight minutes, below the 65% target.
Health Minister Edwina Hart said crews needed to reduce speeds due to snow and ice, with many roads impassable.
In a written statement, she said: "These figures need to be seen in the context of the pressure that services were under in December.
"As a result of their efforts, planning and coordination, services were maintained in very difficult circumstances.
"The ambulance service receives more than 25,000 emergency calls every month. December saw a significant increase in those emergency and life-threatening calls.
"Naturally, ambulance response times will have been affected as crews needed to reduce speeds on the snow and icy roads, with many of the minor and side roads impassable for more than a week.
"As a result the eight-minute response time standard was difficult to achieve.
'Difficult conditions'
"So severe were the road conditions that in some instances the fire service were called out to assist.
"Let us be clear, these were difficult conditions for all involved."
The 35,600 emergency calls in December last year was an 18% increase on December 2009, the official figures released by the assembly government show.
The number of people attending A&E or minor injury units also rose from 70,000 in December 2009 to more than 74,400 a year later.
But opposition parties criticised the health minister for using the weather as an "excuse".
Welsh Liberal Democrat health spokesperson Veronica German AM said: "Whilst I accept that the extreme weather will inevitably slow services down and prevent targets being met it provides no explanation for every other month of the year.
"The Labour-Plaid government is using the hard winter as an excuse for consistent failures to meet their own NHS targets."
Conservative health spokesperson Nick Ramsay AM said: "These figures are a shambolic indictment of just how bad the situation facing the Welsh NHS has become.
"While the weather has played a part, we are seeing a sustained trend of ambulances failing to respond promptly to emergency calls.
"Had the assembly government been more prepared for the winter weather, emergency services would have been better equipped to keep moving.
"We cannot let the cold weather continue to damage emergency response times so severely, and the assembly government must urgently work towards vast improvement."