Views sought on plan to prevent Severn Estuary flooding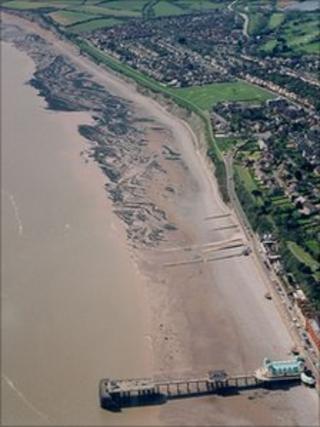 Views are being sought on proposals to prevent tidal flooding along the Severn Estuary over the next 100 years.
Plans include raising the sea wall at Penarth, Vale of Glamorgan, and improving embankments in areas around Cardiff, Newport and Chepstow.
Environment Agency Wales said without improvements, Penarth's sea wall could collapse and annual tidal flooding would happen at Cardiff and Newport.
The Severn Estuary has the second highest tidal range in the world.
Its flood plains are home to 250,000 people.
The Environment Agency Wales consultation closes on Friday, 18 March, and it aims to manage the flooding risk "in a way that is sustainable for people, the economy and the environment".
The report contains a list of potential improvements the agency advises need to be made over the next five to 10 years, the next 20 years and after 2030.
The plan identifies areas at risk of tidal flooding from Lavernock Point, Vale of Glamorgan, to Gloucestershire and on to Hinkley Point near Weston-super-Mare.
In Cardiff, the agency's report said: "Flood risk will increase as sea levels rise and storms become worse.
"Even if the existing defence structures were maintained at their current height, by 2060 the risk of tidal flooding will increase to a one in 50 chance of flooding in any year.
Climate change
"By 2110 there would be annual tidal flooding if defences have not been improved."
The agency proposes "phased improvements" in Cardiff between 2060 and 2110 to "keep pace with climate change", including increasing the height of embankments by 0.8m (about 2ft 8in).
Newport generally faces a similar tidal flooding threat to Cardiff, but it is noted there are short sections near the Transporter Bridge where the risk of tidal flooding is one in 20 in any one year.
The agency said it aimed to work with Newport council and local business to make improvements around the bridge in the next five to 10 years.
In Penarth, there is concern that by 2060, frequent wave "overtopping" could cause the "collapse of the sea wall if it has not been improved".
The report noted Vale of Glamorgan council aimed to improve the promenade which would help reduce the flood risk.
Elsewhere, other improvements are proposed around Wentlooge between Cardiff and Newport; between Uskmouth and Redwick near Newport; between Redwick and Portskewett; and around Mathern near Chepstow.
Flood risk
The Environment Agency has also identified areas along parts of the estuary in Gloucestershire and Somerset as part of the plan.
Environment Agency Wales' Graham Hillier said: "We are working with a range of organisations and communities to develop solutions to manage flood risk along the Gwent and Wentlooge levels.
"This is still a draft strategy and no final decisions have been made yet so it is vital that you have your say during this consultation period.
"Your views and opinions will help us create a long-term solution to managing flood risk sustainably across the Welsh stretch of the estuary."