Machynlleth 'needs new road across flood plain'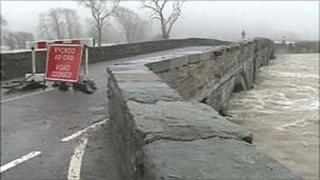 A Powys town needs a new road through the nearby flood plain, a councillor claims.
Traffic around Machynlleth was delayed and diverted last week when the A487 was again hit by localised flooding.
Town and county councillor Mike Williams said: "If this position had existed in south Wales or north Wales, it would have been sorted long ago."
The Welsh Assembly Government said it was considering flood protection plans.
The A487 Dyfi Bridge was also closed in both directions after heavy rain this month.
A delivery van driver was stranded for nearly 12 hours after his vehicle hit about 3ft (0.9m) of flood water at Derwenlas late at night.
A woman in her 90s was stuck upstairs in a house in Dyfi Bridge before she was rescued.
Mr Williams said if the flooding had been any worse the emergency services would have faced the prospect of long detours.
If the flooding had happened in the summer residents, businesses and tourism would have also been hit much harder, he said.
"This flooding is not something that occurs now and again.
"Whenever there is any substantial rainfall, that section of road floods and floods to the extent that people have to find alternative routes out of the town."
The alternatives were a "very tortuous mountain road that many people would not think of taking" or lengthy diversions via the A470, he said.
Mr Williams said the area needed a new road bridge across the River Dyfi and a new road to cross the flood plain.
"The assembly government have been looking at what to do for some considerable time and now the looking must stop and they must actually get down to doing the work that is required.
An assembly government spokesperson said: "We are currently investigating a range of options for improving the condition of the A487, as well as exploring measures to reduce the impact of flooding.
"The Afon Dyfi occasionally floods a section of A487 to the south west of Derwenlas.
"We are investigating options for dealing with this, but there is no simple solution.
"It is likely to involve raising the level of the trunk road, which would require the acquisition of third party land and partial closure of the trunk road whilst the works are carried out."