School toilet guidance in Wales 'doesn't go far enough'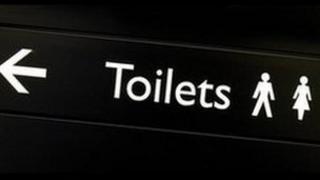 Guidance on school toilets does not do enough to cut the risk of dangerous bugs spreading, a watchdog claims.
Consumer Focus Wales said councils should audit whether toilets are adequate and whether children can wash their hands.
It said draft guidance from the Welsh Assembly Government did not meet the recommendations of a report into the 2005 south Wales E. coli outbreak.
The assembly government said it was consulting on how to improve standards.
Consumer Focus said the draft guidance did not go far enough to reduce the risk of pupils spreading bugs such as E. coli O157 and salmonella.
It backed a recommendation from Professor Hugh Pennington, who led the public inquiry into the 2005 outbreak.
E. coli O157 from contaminated meat made more than 150 people ill and killed five-year-old Mason Jones from Deri, near Bargoed.
Prof Pennington said local authorities should have a programme of audits to make sure all schools have adequate toilets and hand washing facilities.
The recommendation was intended to minimise the chances of illness spreading from person to person if there was another outbreak.
Consumer Focus Wales senior policy advocate Jennie Bibbings said standards of hygiene should not suffer as a result of public spending cuts.
She said the watchdog welcomed the draft guidance which sets out best practice on school toilets, but warned it says "almost nothing about how standards will be monitored at local authority level".
"Without that broad view at the local authority level there is no way of evaluating the extent to which schools are adopting best practice and no way of knowing whether the guidance has actually made any difference to the quality of provision," she said.
"In the current financial climate school toilets might be a low priority but hygiene standards could suffer and the risk of illness among school children increases.
"The consequences of not implementing his recommendation could therefore be very serious."
Keith Towler, the children's commissioner for Wales, said: "This is an issue of considerable importance to pupils across Wales and is constantly raised with me when I visit primary and secondary schools.
"Their views are critical to the success of this guidance and I am encouraged to see the importance the government places on the views of pupils in developing, implementing and reviewing school toilet policies.
"Whilst I am pleased to see the publication of this consultation there are areas which continue to concern me. As it stands there is insufficient detail in the guidance to help schools conduct their own audits of toilet facilities and I have urged the government to develop a template for schools to help implement the guidance effectively.
"I would also like to know what plans will be put in place by local authorities to ensure governing bodies receive this best practice guidance and ensure its full implementation so that pupils see a real improvement in their school toilet provision. Ultimately, this is all about dignity and respect."
Consumer Focus also called for guidance to include standards for staff toilets because inspections found "variable performance" for hand washing facilities at school canteens.
Ms Bibbings added: "We feel the guidance would benefit from more specific information on how and when pupils should wash their hands and we also believe the guidance should acknowledge the logical links with food hygiene education, where basic messages about personal hygiene can be reinforced."
'No privacy'
Liberal Democrat AM Eleanor Burnham said the standard of school toilets had been repeatedly raised by the children's commissioner.
She said: "It affects children's health. There are a lot of children who don't go to the loo all day if there's no privacy and doors don't lock and they are grim.
"It's a big issue that desperately needs to be put right.
"Loos are very basic and absolutely essential, as well as free drinking water.
An assembly government spokeswoman said: "We are currently consulting on our draft guidance on how best to improve school toilet standards.
"We welcome all views on this important issue which will be considered as part of the consultation process."