Album deal for star of 'irritating' Go Compare advert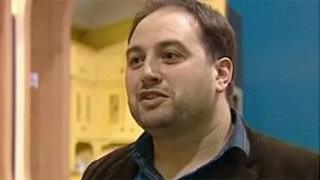 The Welsh star of a TV advert voted the UK's "most irritating" has signed a long-running recording deal.
Wynne Evans, 38, from Carmarthen, who plays the moustachioed opera singer in the Go Compare adverts, has signed a six-album deal with Warner Records.
"I had offers from all the major labels but... they offered me the opportunity to record the album that I really wanted to," he says on his website.
His first album, A Song In My Heart, is due to be released in March.
Evans, who studied at the Guildhall School of Music and Drama, and the National Opera Studio, London, has become a familiar face through his on-screen portrayal of "Gio Compario".
In a recent survey the adverts were voted "most irritating" of 2010, landing the dubious honour for the second year in a row.
Evans told the Daily Mail that he was initially devastated by the criticism.
"I thought they'd stop making the ads," he said.
"But I got on the phone to the advertising people and they were delighted.
"They told me: 'My dear boy, this is ­wonderful news. People are noticing us and it's brilliant for business.'
"So now I am really proud."
The singer, who has performed in a number of roles for Welsh National Opera, is also known in Wales for singing while wandering across the pitch with a Welsh flag before 20 rugby internationals at the Millennium Stadium.
Contributors to the album include the Hollywood conductor and orchestrator Nicholas Dodd and Cor Caerdydd.
"I've basically had a ball recording all my favourite songs and I hope people will enjoy it," Evans says on his website.
"I've included quite a few Mario Lanza songs, which I have adored since I was a child.
"It was also important to me to get exciting new arrangements done and was delighted to have Nicholas Dodd involved.
"The arrangements are very 'filmic' and I love them."