Tributes paid to M4 crash family from Porthcawl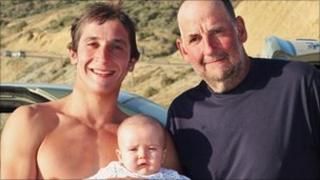 Family tributes have been paid to the three people killed on the M4 motorway near Cardiff on Monday night.
Louise Evans, 23, her partner Tom Padden, 20, and his father Stephen, who was 56, were returning from a holiday in Morocco.
Thomas Padden's mother Suzanne and six-month-old Logan Padden survived.
Ms Evans was called "wonderful", Tom Padden was described as "a real people person" and his father "selfless".
All three died when their Peugeot 406 was involved in the single vehicle accident between junction 32 Coryton and junction 33 Cardiff West, just before midnight on Monday.
The were returning to their home town of Porthcawl, Bridgend.
Paying tribute to Louise, her mother Myra Evans said: "Louise was a wonderful caring daughter, mother, sister and aunty with a heart of pure gold.
Keen surfers
"She came into our world for a short period and brightened up our lives.
"She lived for her family, especially Tom and baby Logan, and our lives have been changed forever."
James and Lewis Padden and their mother Suzanne also paid their tributes to Louise, their
father and their brother.
"Louise was like a daughter to mum and dad and a sister to me and Lewis. She was the perfect match for Tom and would have been a wonderful mother, for a couple so young they were remarkable parents," they said.
The Padden family members added: "We are devastated by our loss.
"Dad was the most selfless person you could wish to meet, nothing was about him. He lived for the moments we shared as a family.
"He doted on Logan, it was like Logan had breathed fresh life into him and given him a real focus."
The family were keen surfers, with Tom named the Welsh junior champion in 2007.
His brothers and mother added: "Tom was a wonderful brother, we will miss him dearly. His presence had the ability to make people smile.
"Age was no barrier for Tom - his friends are of all ages and from all walks of life. His infectious personality rubbed off on all those he met. He was a real people person, a loveable rogue.
"He had been a wonderful father and we watched him become a man. He was devoted to Louise and their baby son Logan, who would spend hours watching him surfing.
"Tom had taken to being a father as he did everything else in life, without fear and with total conviction."
An investigation into the cause of the crash is continuing.