'Dramatic drop' in flu in Wales say GPs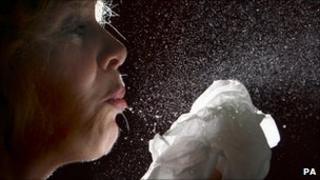 The level of flu infections in Wales has seen a dramatic drop in the last week, doctors are reporting.
The number of GP consultations for influenza dropped from 93 per 100,000 patients to 51.
Health officials say 32 people remain in critical care beds across the country with flu related illness, down from 49 a week ago.
However, the seasonal flu outbreaks have claimed 28 lives in Wales since October.
"The substantial decrease in the clinical consultation rate for influenza shows that flu activity is declining in Wales," said Dr Tony Jewell, the chief medical officer for Wales.
"This welcome decline in new cases is in line with expectations and we further expect this trend to continue."
Precautions
Public Health Wales said the rates of flu infection has remained within the normal pattern for seasonal influenza.
But its officials have reminded the public to continue taking basic precautions against the disease.
"Whilst flu activity looks to be declining, our advice remains the same," added Dr Jewell.
"If you have flu-like symptoms, you should not go to your GP or emergency department as this increases the risk of spreading the infection.
"As always, I'd urge people to continue to practise good hygiene.
"Regularly washing your hands is the single most effective way of preventing infection and everyone should also cover their mouth and nose when coughing and sneezing.
"Simple steps like these will protect you and others for infection and should be second nature to everyone."
Patients who suspect they or those they care for have flu are urged to contact NHS Direct on 0845 46 47 or to telephone their GP for advice.