Disused Amlwch branch line reopening study begins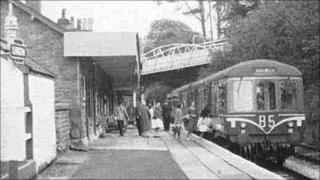 A study on reopening a railway line that closed to passenger traffic more than 35 years ago is to begin on Anglesey.
Network Rail is looking at restoring services on the disused Amlwch branch line.
The line between Llangefni and Gaerwen shut in 1964 but remained in use for chemical freight until the early 1990s.
The four-and-a-half miles (7.2km) of track have become overgrown with vegetation since it went out of use.
The feasibility study will see engineers looking at 31 bridge and culverts, as well as earthworks on the route.
They will also examine the feasibility of refurbishing the Llangefni station building and its disused platform.
Network Rail said a study of the natural environment aimed to identify any rare plants and species that would need to be protected if line was reopened.
The Welsh Assembly Government has commissioned the study to see if regular passenger services between Llangefni and Bangor are viable.
The scheme's backers say, if reopened, it could encourage motorists commuting from Anglesey to the mainland, to switch to public transport.
Anglesey council leader Councillor Clive McGregor said: "We know that there are probably about 10,000 people that cross the island, and cross the bridges, to go and work on the mainland.
"If we can harness some of those to use public transport, and trains in particular, then we're in a win-win situation."
Mike Gallop, principal programme sponsor, Network Rail said: "The Amlwch branch line has been disused for nearly two decades and bringing it back to passenger use will be tough.
"For passenger trains to run on the line again, we may need to modernise the existing signalling system, repair and replace the disused track, bridges and culverts, which are no longer fit for purpose.
"The study will be vital to help us examine the feasibility and identify a cost-effective solution."