Leanne Wood AM queries £5m annual payments to officers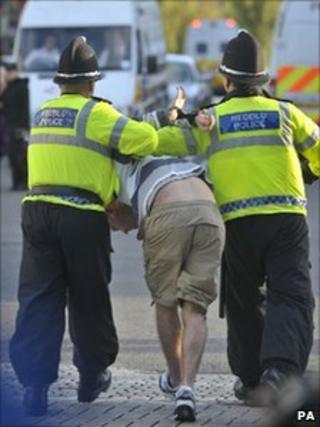 Annual payments of up to £5,000, given to up to 40% of Welsh police officers, should be reviewed, says a Plaid AM.
Leanne Wood said the payments to those officers with demanding roles should be looked at ahead of any policing cuts.
The Police Federation said the "divisive" payments should be made part of police officer's salaries.
The Home Office said police pay and conditions were under review, aimed at providing value for money and a "better service to the public".
Ms Wood said Wales' four forces had to find £5m from their own budgets last year to make the special priority payments to those officers considered to have demanding jobs.
These include payments to armed response unit officers, traffic officers and dog-handlers.
Policing in Wales is paid for mostly by the Home Office, but also elements from the assembly government budget and council tax precepts.
The settlement for the coming year for the four Welsh police authorities is £421.4m, amid a "challenging" financial environment, according to ministers.
It has prompted concerns that the four police forces in Wales face cutting 1,600 officers and support staff over the next four years.
Ms Wood, Plaid Cymru AM for South Wales Central, said the special priority payments (SPP), available to officers up to the rank of superintendent, should be reviewed before any changes in policing services were made.
According to her research, more than 600 Gwent Police officers picked up one of the payments, which are all made in December.
These included traffic officers, dog handlers, armed response unit members and neighbourhood support teams officers.
North Wales Police made the payments to more than 700 officers, with the highest payment being £2,700.
Ms Wood said: "I've been told that very senior police officers believe this system is both divisive and it has been described as an anathema to policing.
"This scheme was introduced by Labour under David Blunkett. My understanding is that it was taken out of the main policing pay budget and individual forces have had to cover the costs.
"The new Tory/Lib Dem coalition government needs to consider whether this scheme is appropriate for 2011.
"Most people want to see money being spent on frontline services."
Steve Williams, a North Wales Police officer and Police Federation national committee lead on Welsh policing, said his organisation thought the payments divisive.
He said: "We would much rather see that money put into salaries instead."
Gwent Police said: "Historically Home Office funding has been provided to forces for payment of the SPP scheme however for the first time this year (2010/11) that funding stopped.
"Gwent Police Authority took legal advice and it was established that, under the national agreement, they were required to continue with the payment.
The Home Office said the police remuneration and conditions was under review and the payments were included.
"In October the government launched a review of remuneration and conditions of service for police officers and staff," said a spokesman.
"The aim is to allow the police to provide a better service to the public and ensure value for money for the taxpayer."