Lack of official campaigns in referendum 'sad day'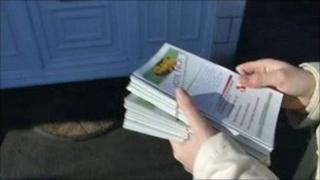 The absence of official campaigns in the Welsh assembly powers referendum would be a "sad day for politics", a prominent AM said.
A group calling for a No vote has said it does not want official status as a lead campaign.
Yes for Wales, which is seeking to become a lead campaign, said it will consult with the Electoral Commission.
Plaid Cymru's Rhodri Glyn Thomas said there would be no national debate on the vote without official campaigns.
Lead campaigns in the 3 March vote on whether to increase the assembly's law-making powers are entitled to £70,000 of public funding, free mail-shots and TV and radio broadcasts.
But the cash is only available if campaigns are designated on both sides.
The Electoral Commission is considering two applications for lead campaign status - one from Yes for Wales, which has the support of Wales' four main party leaders, and a No application from a blogger called David Alwyn ap Huw Humphreys.
True Wales, which is against devolving more law-making powers to Cardiff Bay, launched its No campaign on Wednesday at Newbridge Rugby Club, in Caerphilly county.
The group's announcement that it did not want lead campaign status - claiming it would save public money - threw preparations for the referendum into confusion.
Speaking on the BBC Wales' CF99 programme, Plaid AM Mr Thomas said: "I think it's a very sad day for politics and democracy in Wales.
"They (True Wales) don't want a discussion and they don't want to campaign because they know they don't have arguments."
The commission has a duty to promote awareness about the referendum and will send out an information booklet to every household in Wales. There will also be a TV, print, radio and internet advertising campaign.
The deadline for applications to become a lead campaign ended at midnight. The watchdog must decide whether it can appoint lead campaigners for both sides of the debate by 2 February.
The Yes for Wales campaign, chaired by Welsh Rugby Union Chief Executive Roger Lewis, was officially launched earlier this month.
A spokesman said: "Our priority is to engage the Welsh public in the referendum and will be discussing with the Electoral Commission the best way to do this."
In an interview with BBC Wales' Good Morning Wales programme, True Wales member Len Gibbs said most people did not read political leaflets or watch political broadcasts.
"We are not fighting this new war with the tools of the last," he said.
"We don't particularly put great store on having that designation (as lead campaign), so we came to the conclusion that we didn't need it and we are not going to apply for it.
"We have always been and will remain a group of people who puts its case using only the money of its supporters.
"It's most certainly the case that this is about public money.
"We are helping the people of Wales not to waste money on something we don't believe is necessary."