Festive drink-drive figures rise in Wales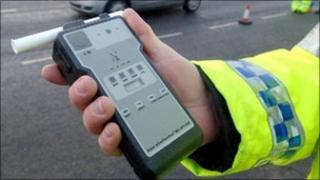 Christmas drink-drive figures for Wales show that more of the drivers stopped tested positive compared to last year - despite the poor weather conditions.
Gwent Chief Constable Mick Giannasi described those caught driving while over the limit as "socially irresponsible".
Officers breathalysed more than 40,000 motorists in Wales in December 2010.
Just under 580 (1.4%) of these tested positive, compared to around 640 (1.2%) of the 54,000 stopped in December 2009.
Mr Giannasi, the Association of Chief Police Officers' (ACPO) lead for roads policing, said that given the exceptional road and weather conditions experienced during December, forces reported a significant reduction in the number of people using the roads.
Referring to the combined figures for England and Wales, he added: "Despite that, there were still 6,613 people who chose to put the lives of others at risk by driving under the influence of drink and drugs.
"That is not only socially irresponsible; it will also have consequences for those who were caught.
"All of them now face a lengthy driving ban, some will face imprisonment and many will already have lost their jobs and their livelihoods."
Dyfed-Powys Police Assistant Chief Constable Nick Ingram said: "The key message for us this year was that it's impossible for people to safely calculate how much they can drink and still be able to drive below the legal limit.
"The safest thing to do is not drink at all.
"This winter campaign gives us the opportunity to highlight the issues surrounding drinking and driving particularly the morning after.
Leave car
"We cannot judge how much we can drink and drive safely and drivers may find that they are still well over the limit the following morning.
"The only safe options are to drink or drive not both."
Deputy First Minister Ieuan Wyn Jones, who also holds the transport portfolio, said: "There has been a slow and steady change in attitudes towards drinking and driving in recent years, which are reflected in these results and has manifested itself in a huge reduction in road casualty figures.
"However, these efforts must continue.
"It is essential that motorists remember that if they're going to drink they should get someone else to drive or leave their car at home, whatever the time of year.
"You can not calculate your own drink-drive limit so the only safe option is not to drink and drive."